By Tim Gabbett and the Gabbett Performance Solutions team
Load Management is About Creating High-Performing Athletes
There is a growing body of evidence that high chronic loads are associated with lower injury risk (1). Consequently, medical and performance staff from sporting teams have changed the way they view load monitoring data. No longer is it simply used to "keep athletes injury-free", but now, practitioners are using this information to build "robustness" and "resilience" in their athletes. If the knowledge around the benefits of training load is increasing, is it possible for performance and medical staff to one day develop an "unbreakable" athlete?
In a recent British Journal of Sports Medicine paper, researchers and practitioners from Australia, Europe, South America, North America, and the United Kingdom joined forces to address this question. In the paper we provided a framework whereby sports medicine professionals (i.e. strength and conditioning coaches, sport scientists, and physiotherapists) can work together to solve the problem (2).
Pedal to the Metal, or Slam on the Brakes! Increasing Capacity Involves More than Increasing Load
Verhagen and Gabbett (3) recently described the relationship among load, load capacity, health, and performance (Figure 1). Positive training adaptations occur when load is gradually and systematically increased above an athlete's current load capacity. This would suggest that in order to increase load tolerance, all one has to do is safely progress load above current capacity. But not so fast! Load capacity is also influenced by factors associated with health (e.g. mood, stress, sleep quality, etc). So, the load that can be tolerated today, may not be tolerable tomorrow (3). This suggests that in order to safely progress load, practitioners must also consider an athlete's health. When building load capacity, before we put our pedal to the metal (or sensibly progress load), we may need to gently put on the brakes (on occasions regress load)!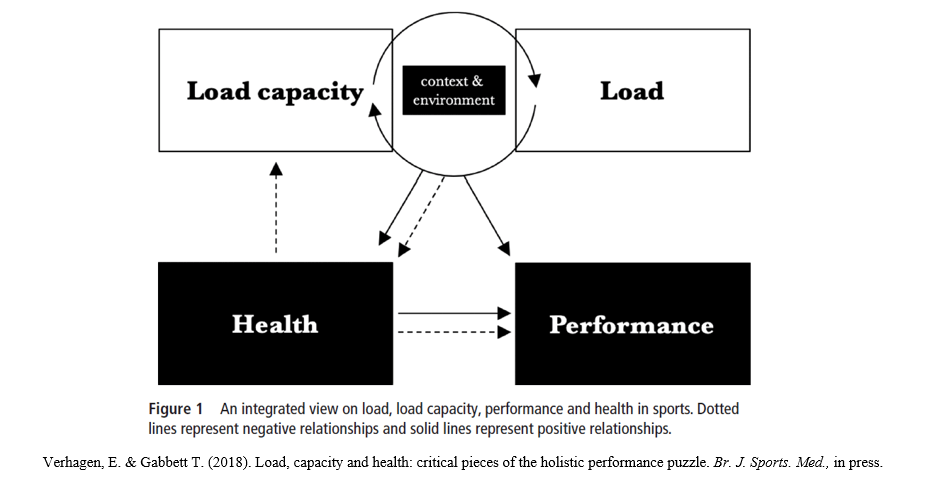 What Factors Influence the Load-Capacity Relationship?
If increasing capacity involves more than simply increasing load, what factors can inform the decision-making process for practitioners? When should load be increased or decreased? What factors should be considered when interpreting load tolerance? Firstly, it is well established that tolerance to load is influenced by biomechanical factors (4), as well as various emotional and lifestyle stressors (5-7). For example, elevated stress (5, 6) and anxiety (7) increase injury risk. Secondly, athletes who get inadequate sleep are at greater risk of sporting injury than their counterparts who sleep for 8 or more hours per night (8). When an increased training intensity and volume was coupled with shorter sleep in elite adolescent athletes, injury risk doubled (9). These findings suggest that along with training load, great insights can be gained from monitoring sleep quality, mood and stress levels of athletes.
What Comes First – High Training Loads or the Robust Athlete?
Along with the health factors that influence load capacity, various physical qualities have also been shown to moderate the relationship between training load and injury. For example, tolerance to 'spikes' in training load are moderated by aerobic fitness and lower-body strength; athletes with well-developed physical qualities have a reduced risk of injury, while at the same increase in load, athletes with poorly-developed physical qualities have a greater risk of injury (10, 11). But this presents somewhat of a 'Chicken or Egg' problem; what comes first, load, or the ability to tolerate load? That is, the development of physical qualities (that protect against 'spikes' in load) requires high training loads; but tolerating high training loads requires well-developed physical qualities. Presumably, structure-specific load capacity, which is associated with a degree of physical capacity (e.g. aerobic fitness, strength) allows an individual to tolerate training load. In turn, the application of training load further develops these physical qualities, which eventually leads to sport-specific load capacity (Figure 2).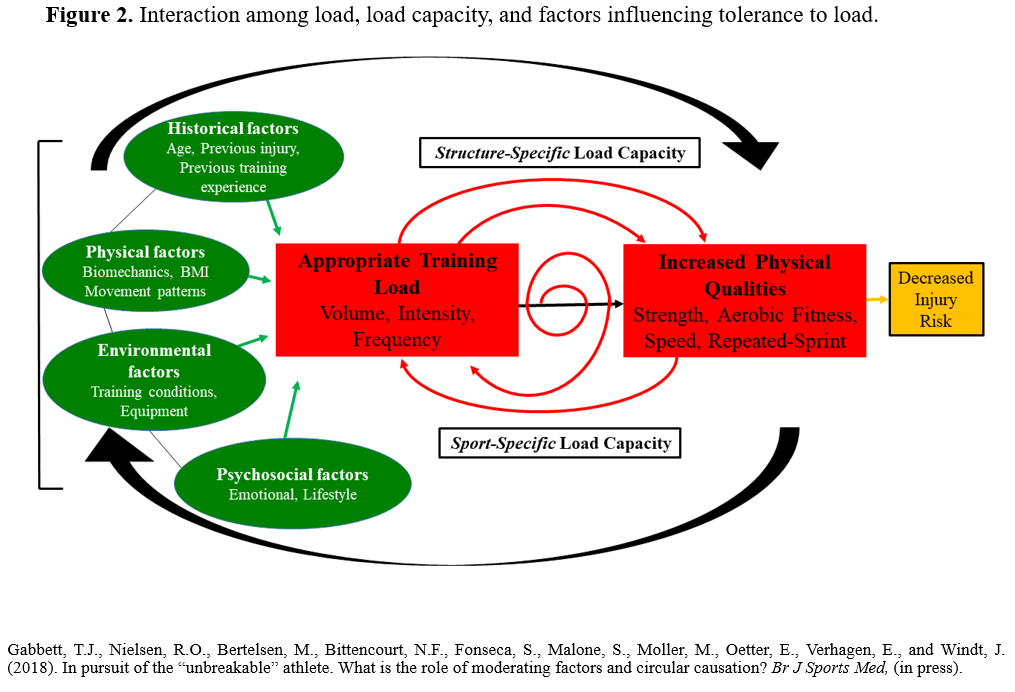 Is the "Unbreakable" Athlete a Realistic Possibility?
Developing an "unbreakable" athlete is a worthy pursuit for sports medicine professionals. With respect to athletes, strength and conditioning coaches will "train", sport scientists will "monitor", and physical therapists will "treat". But working in silos will not provide the solution; each of these professionals are more effective when integrating with each other. Monitoring alone will not prevent injuries; optimal loading is required to build robustness. However, optimal loading requires more than "lifting"; some degree of load monitoring is required! And finally, structure-specific load capacity (typically assessed by medical staff) must be considered if we are to develop an "unbreakable" athlete.
References
Gabbett, T.J. (2018). Debunking the myths about training load, injury and performance: empirical evidence, hot topics and recommendations for practitioners. Br J Sports Med, (in press).
Gabbett, T.J., Nielsen, R.O., Bertelsen, M., Bittencourt, N.F., Fonseca, S., Malone, S., Molller, M., Oetter, E., Verhagen, E., and Windt, J. (2018). In pursuit of the "unbreakable" athlete. What is the role of moderating factors and circular causation? Br J Sports Med, (in press).
Verhagen, E. and Gabbett, T. (2018). Load, capacity and health: critical pieces of the holistic performance puzzle. Br J Sports Med, (in press).
Vanrenterghem, J., Nedergaard, N.J., Robinson, M.A., and Drust, B. (2017). Training load monitoring in team sports: A novel framework separating physiological and biomechanical load-adaptation pathways. Sports Med, 47:2135-2142.
Ivarrson, A., Johnson, U., Andersen, M.B., et al. (2017). Psychosocial factors and sports injuries: meta-analyses for prediction and prevention. Sports Med, 47:353-365.
Mann, J.B., Bryant, K.R., Johnstone, B., et al. (2016). Effect of physical and academic stress on illness and injury in division 1 college football players. J Strength Cond Res, 30:20-25.
Li, M., Moreland, J.J., Peek-Asa, C., and Tang, J. Preseason anxiety and depressive symptoms and prospective injury risk in collegiate athletes. Am J Sports Med, 45:2148-2155.
Milewski, M.D., Skaggs, D.L., Bishop, G.A., et al. (2014). Chronic lack of sleep is associated with increased sports injuries in adolescent athletes. J Petriatr Orthop, 34:129-133.
von Rosen, P., Frohm, A., Kottorp, A., et al. (2017). Multiple factors explain injury risk in adolescent athletes: Applying a biopsychosocial perspective. Scand J Med Sci Sports, 27:2059-2069.
Malone S, Hughes B, Doran DA, et al. (2018). Can the workload-injury relationship be moderated by improved strength, speed and repeated-sprint qualities? J Sci Med Sport, https://doi.org/10.1016/j.jsams.2018.01.010.
Malone S, Roe M, Doran A, et al. (2017). Protection against spikes in workload with aerobic fitness and playing experience: the role of the acute:chronic workload ratio on injury risk in elite Gaelic football. Int J Sports Physiol Perform, 12:393-401.
DO YOU WANT TO KNOW MORE?
KEEP UP TO DATE WITH OUR NEWS
Do you have any questions about Barça Universitas?
Startup
Research Center
Corporate
PLEASE COMPLETE THE FIELDS:
PLEASE COMPLETE THE FIELDS:
PLEASE COMPLETE THE FIELDS:
The Form has been sent successfully.
PLEASE COMPLETE THE FIELDS:
PLEASE COMPLETE THE FIELDS:
PLEASE COMPLETE THE FIELDS:
The Form has been sent successfully.
PLEASE COMPLETE THE FIELDS:
PLEASE COMPLETE THE FIELDS:
PLEASE COMPLETE THE FIELDS:
The Form has been sent successfully.