Acceleration is a metabolically demanding activity that increases both the energy expenditure of an activity and muscle fatigue when compared to displacement at a constant velocity (Osgnach et al., 2010). In team sports, accelerations, decelerations, and changes of direction occur very frequently. In the specific case of soccer, more than 85% of maximum accelerations do not reach a high velocity movement category (>4.17 m/s-2; Varley & Aughey, 2013). Therefore, these actions won't be considered as high intensity in the traditional and simplistic analysis that considers the athletes' movement velocity, while underestimating the high-intensity actions performed by the athletes. Maximum accelerations (>2.78 m/s-2) occur at a rate 8 times higher than sprint actions. (Varley & Aughey, 2013). It is therefore necessary to study in depth these types of actions during training and/or matches (this is applicable to team sports in general). Some authors (Castellano, et al., 2013) have started to pay attention to this new dimension and its relevance to analyzing the demands placed on soccer players, since they could be underestimating actions carried out at maximum acceleration, but at low velocity. When it comes to defining intensity categories for high intensity accelerations and decelerations, different thresholds of absolute intensity are used by different authors. Specifically, the maximum intensity accelerations have been established though the values 2.78 m·s-2 (Varley & Aughey, 2013), 3 m·s-2 (Hodgson et al., 2014) and 4 m·s-2 (Buchheit et al., 2014).

In the example included, the threshold >2.5 m·s-2 and <-2.5 m·s-2 is used to categorize the accelerations and decelerations as high intensity. We should keep in mind that a high velocity movement action does not always follow a high level acceleration action, given that the athlete could accelerate little by little over a longer period of time. In this sense, an athlete's maximum acceleration capacity is related to his physical capabilities, and so as the reliability, validity and accuracy of monitoring systems improve, the intensity thresholds should meet individual player profiles. Additionally, the athlete's maximum acceleration capability is dependent on the initial velocity of movement, such that if the initial movement velocity is greater, the athlete's maximum acceleration capability is reduced. The use of intensity thresholds of absolute acceleration (for example, considering high intensity acceleration actions as those with a value above 2.5 m·s-2) could therefore underestimate an athlete's actions which are carried out with an initial high speed movement, and at the same time it could overestimate actions carried out at low movement velocities (Sonderegger et al., 2016). In a specific example, if we consider the value >2.5 m·s-2 as a threshold for categorizing actions as high intensity, this threshold therefore represents the maximal exertion if the initial velocity is close to 5 m·s-1. Nevertheless, it represents a threshold below 50% of the maximum potential of the athlete's acceleration effort from standing.
The following is a description of the accelerations of the 10 players participating in a soccer match, where the initial movement velocity is related to the magnitude of the acceleration. It can be seen that as the initial movement velocities increase, the magnitudes of the athletes' accelerations decrease. For example, accelerations greater than 3.5 m·s-2 with initial movement velocities faster than 15 km·h-1 were not recorded. We should keep in mind that this figure is representing the initial velocity of the players' accelerations during a competition, while in previous studies like Sonderegger, et al. (2016) there are maximum values obtained by athletes running with different initial movement velocities.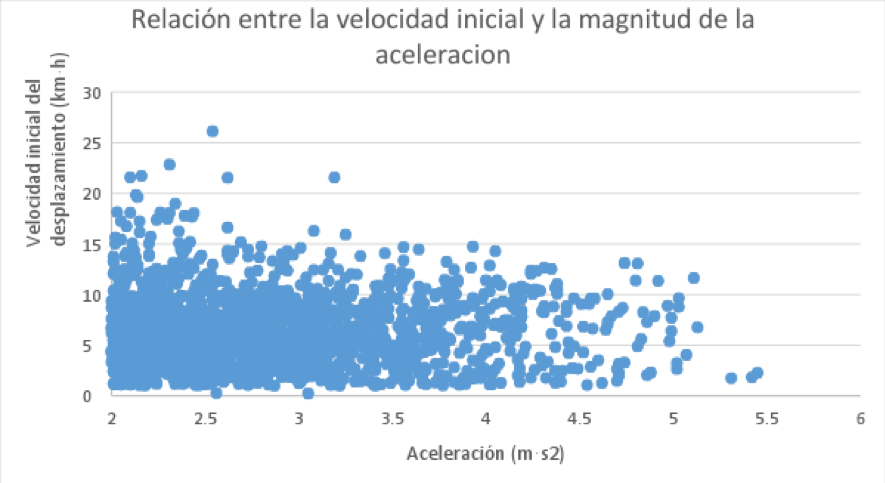 Finally, it is also important to highlight that the acceleration values (number of actions, distance covered in meters or in % of the total, time in seconds or in % of the total) are obtained through positioning values, and not from the accelerometers contained in some of the devices commercially available today. This partly explains why the reliability and validity of acceleration measurements are dependent on acceleration and velocity, with the worst results coming from an increased movement velocity and/or acceleration magnitude.   David Casamichana Gómez, Doctor in Physical Activity and Sports Science. Physical trainer in soccer. University Professor and Researcher. Expert of the Certificate in Workload Management in Football at Barça Innovation Hub – Universitas.     References Buchheit M, Al Haddad H, Simpson BM, Palazzi D, Bourdon PC, Di Salvo V, and Mendez-Villaneuva A. Monitoring accelerations with GPS in football: time to slow down? Int J Sports Physiol Perform. 2014;9:442-445 Castellano, J., & Casamichana, D., (2013). Differences in the number of accelerations between small-sided games and friendly matches in soccer. Journal of Sports Science and Medicine, 12(1), 209-210. Hodgson, C., Akenhead, R., & Thomas, K. (2014). Time-motion analysis of acceleration demands of 4v4 small-sided soccer games played on different pitch sizes. Human Movement Science, 33, 25-32. Osgnach, C., Poser, S., Bernardini, R., Rinaldo, R., & di Prampero, P. E . (2010). Energy cost and metabolic power in elite soccer: a new match analysis approach. Medicine & Science in Sports & Exercise, 42, 170-178. Sonderegger K, Tschopp M, TaubeW (2016) The Challenge of Evaluating the Intensity of Short Actions in Soccer: A New Methodological Approach Using Percentage Acceleration. PLoS ONE 11(11): e0166534. doi:10.1371/journal. pone.0166534. Varley, M.C., & Aughey, R.J. (2013). Acceleration Profiles in Elite Australian Soccer. Int J Sports Med. 34(1):34-9.
DO YOU WANT TO KNOW MORE?
KEEP UP TO DATE WITH OUR NEWS
Do you have any questions about Barça Universitas?
Startup
Research Center
Corporate
PLEASE COMPLETE THE FIELDS:
PLEASE COMPLETE THE FIELDS:
PLEASE COMPLETE THE FIELDS:
The Form has been sent successfully.
PLEASE COMPLETE THE FIELDS:
PLEASE COMPLETE THE FIELDS:
PLEASE COMPLETE THE FIELDS:
The Form has been sent successfully.
PLEASE COMPLETE THE FIELDS:
PLEASE COMPLETE THE FIELDS:
PLEASE COMPLETE THE FIELDS:
The Form has been sent successfully.