For the first time, it has been demonstrated that it does not take months of training to significantly improve both muscle volume and strength; instead, two weeks of an appropriate exercise are enough. These are the conclusions of a study published recently in the Frontiers in Physiology journal, in which Gerard Carmona, researcher for the FC Barcelona Performance area, and the TecnoCampus Higher School of Health Sciences participated.
"Text books claim that eight weeks are needed to reach significant results," Carmona explains. "We have observed that this is not so."
An exercise designed for space
The results have been possible thanks to the combination of a highly effective exercise and high resolution imaging tests. Ten volunteers, all physical education students, were subjected to a training program based on half squat repetitions using a rotational inertia device. These devices are based on a disk that accelerates and gains energy as it descends," Carmona explains, "then it rotates the other way to generate resistance. The device is the result of a grant from ESA (European Space Agency), and was developed to prevent muscle atrophy in space."
Thus, in the same exercise it is possible to combine a concentric exercise (in which the muscle fibers shorten) and an eccentric exercise (in which the fibers work through the tension generated).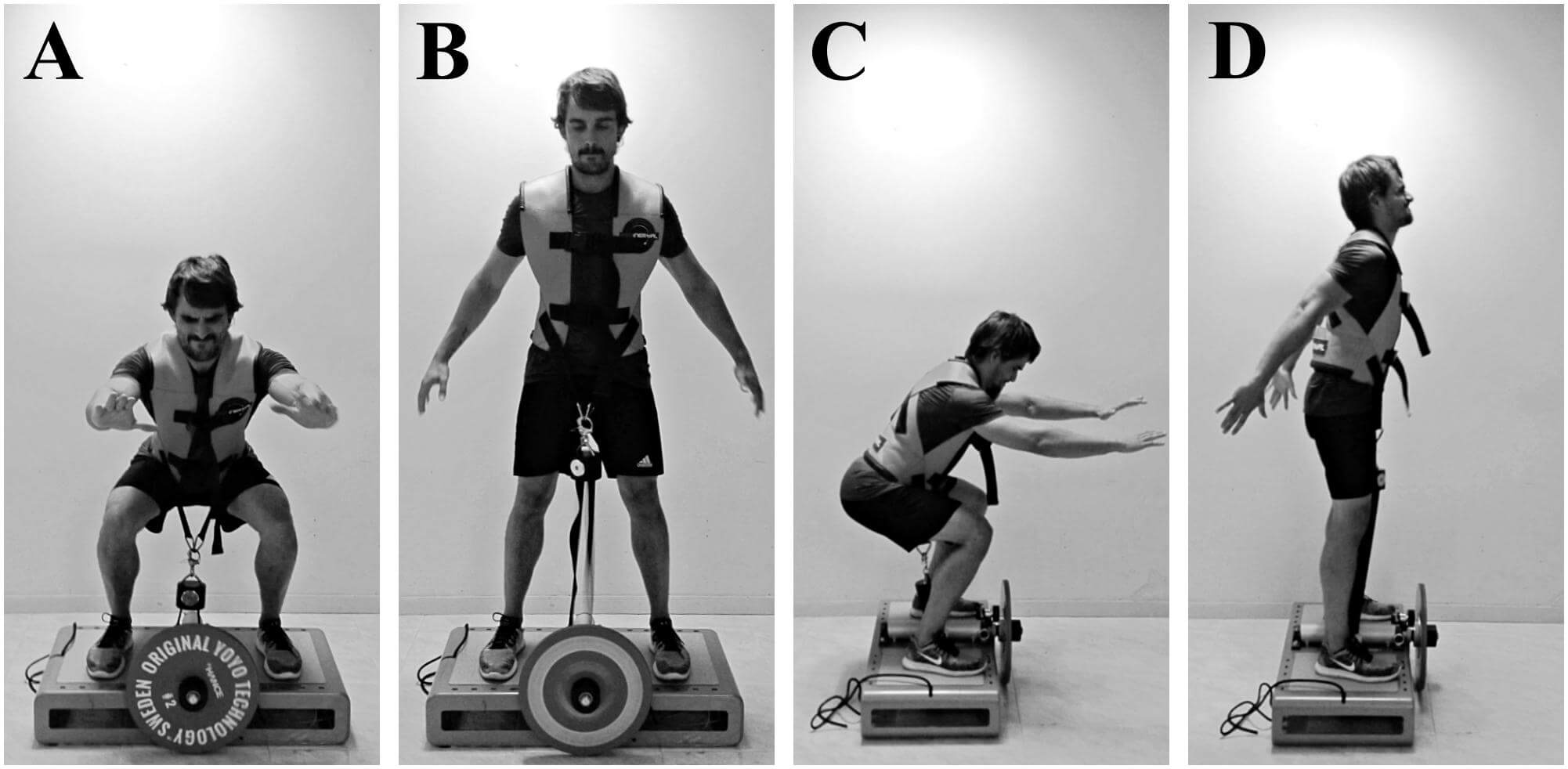 The volunteers did ten training sessions over four weeks (two to three sessions per week), each consisting of five series of ten squats. After two and four weeks, imaging tests were done using magnetic resonance, which allowed researchers to study a possible increase in muscle volume. Most previous studies also used imaging tests that analyzed specific regions of the muscles, but in this case "we took more than 100 images, which allowed us to reconstruct their volume in 3D," Carmona says.
The results were remarkable. After two weeks, a significant increase was already seen in muscle strength and power, and the volume of the quadriceps had increased by 5.5% on average. Four weeks later, this increase was 8.6% in volume, around 30% in strength, and as much as 50% in developed power.
An added surprise
In addition to the speed and magnitude of the results, the study offered another surprise. While using functional magnetic resonance to study which muscles were most activated by the training, the researchers observed that there was no clear correlation between the activity and muscle growth: this relationship is thought to be absolutely intuitive and has been seen in many previous studies. This could be explained because "the majority of previous studies analyzed this relationship using very analytical exercises, in which only one muscle group works," explains Carmona. In the case of the squat, many muscle groups are involved, and the magnetic resonance signal therefore becomes considerably more complex. Hence, one of the study's conclusions suggests that this type of imaging tests may not be completely reliable for predicting which muscles will gain volume according to the exercise analyzed.
Useful conclusions for professionals and the general public
The study's main conclusion is that "rotational inertia exercises are very effective for achieving an increase in muscle volume and strength, and the results appear very quickly with training," Carmona states. This is important for professional sports, where load periods—such as the preseason—are limited in time and require training results to be maximized. But it is also relevant outside of top level sports competition. "It is an important message, for example, for elderly people who have suffered a loss of muscle mass," adds Carmona, who is offering an optimistic message: "giving up a sedentary lifestyle offers positive results very quickly."
The Barça Innovation Hub team
DO YOU WANT TO KNOW MORE?
KEEP UP TO DATE WITH OUR NEWS
Do you have any questions about Barça Universitas?
Startup
Research Center
Corporate
PLEASE COMPLETE THE FIELDS:
PLEASE COMPLETE THE FIELDS:
PLEASE COMPLETE THE FIELDS:
The Form has been sent successfully.
PLEASE COMPLETE THE FIELDS:
PLEASE COMPLETE THE FIELDS:
PLEASE COMPLETE THE FIELDS:
The Form has been sent successfully.
PLEASE COMPLETE THE FIELDS:
PLEASE COMPLETE THE FIELDS:
PLEASE COMPLETE THE FIELDS:
The Form has been sent successfully.