The entertainment industry has evolved by leaps and bounds in the last decades. Hollywood's highest-grossing films count on highly realistic effects generated by computers which were thought to be impossible to create just 10 years ago.
Video games have also experienced this evolution in their graphs making it difficult to differentiate reality from content generated by computers. Ray tracing, an advanced algorithm that enables the improvement of the light behavior in computer-generated environments, and photorealism are some of the concepts that will be familiar to those who closely monitor the industry and its advances.
Spectators have visual experiences at hand which is specifically designed to impress and catch people's attention. Not only the level of detail these studies are able to generate today must be taken into account, but also the possibilities of implementation.
When applied to the broadcast of sports events, these advances make it possible to carry out impossible shots, complicated angles, and perspectives that would otherwise be impossible to get without the image digital processing.
New angles of view
The cameras used in sports events provide impeccable image quality. The possibility of filming at a high frame rate enables the super slow-motion replay of decisive moments of an event.  Besides, it is also possible to zoom in at a long-distance keeping practically the same definition and quality.
Since they are physical objects, we cannot place a camera in the center of the playing field or follow a player from a very short distance. It's in this case in 3D technology comes into play.
In order to get a three-dimensional image of whatever happens on the playing field, the stadium needs to have a great number of cameras located all around the field. They will record what is happening in the game from the greatest number of angles possible. This huge amount of information is processed on a server to merge all the video shots into a 3D video.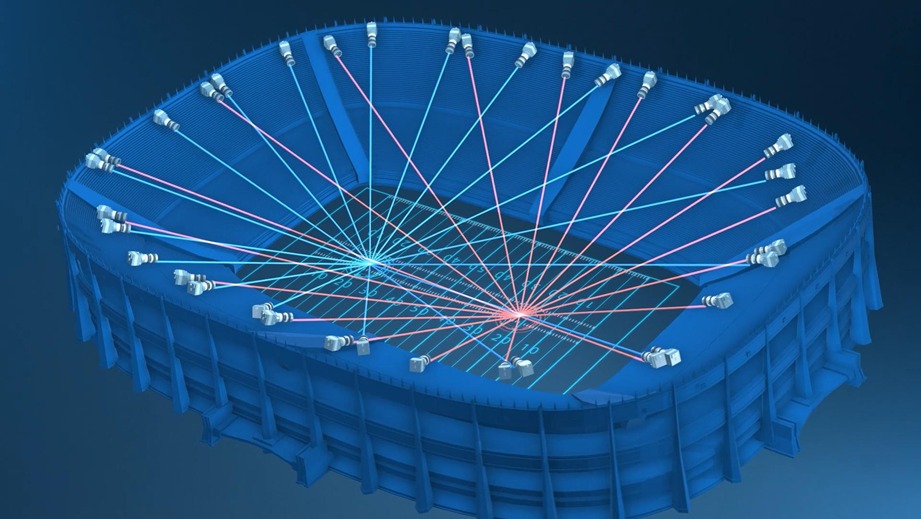 True View is a video recording and processing technology developed by Intel that is capable of providing impossible shots that make the spectators feel part of the action. It also allows you to see replays of the most important plays from different perspectives which were impossible to get in the past.
Augmented reality in sports
Augmented reality generates visual effects on a video as it happens. It allows to amplify the message to be transmitted, add additional information in a visual way or, simply, offer a more impressive image.
In sports, this is used to make broadcasts attractive and, consequently, reach new spectators. It is also a perfect way to offer more information to regular fans and to all those people who are interested in a deeper analysis of each play. 
These detailed analyses are normally carried out on news shows after the game. However, thanks to augmented reality, the spectator can see graphs about what is happening on the playing field as it happens. These elements are integrated on the image keeping their position on the field as if they were one more element in the stadium.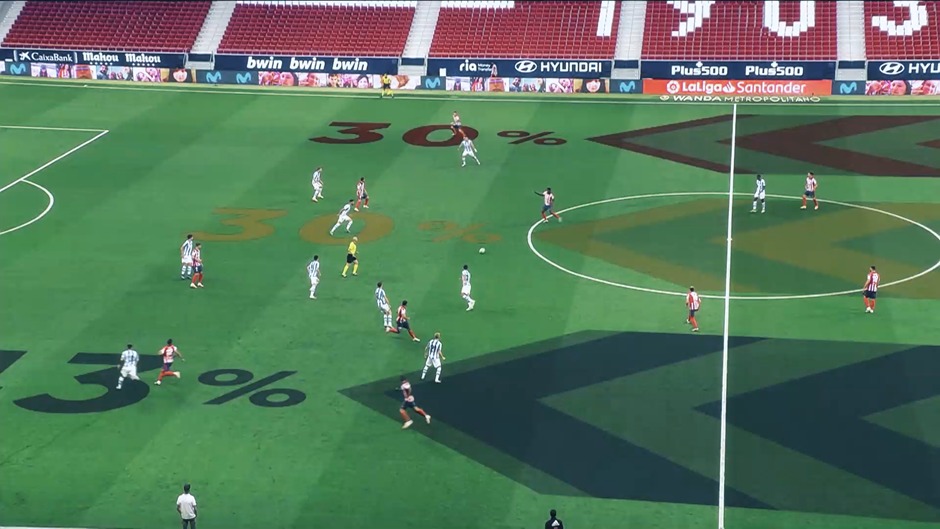 LaLiga started to implement this technology in 2020 to offer more attractive content to its spectators. In 2021, they strengthened their alliance with Microsoft and their platform Azure, a cloud computing service.
The extension of this collaboration implies an improvement of the visual experience offered to fans as well as more possibilities for the entertainment industry through the technological division of LaLiga, Laliga Tech.
The future of sports broadcasts
We are currently enjoying technologies that augment our visual experience in sports broadcasts in a way never imagined before. This has implied an improvement in loyalty and fan engagement, attracting new spectators and strengthening the relationship with the existing ones through experiences that satisfy their curiosity about the game stats.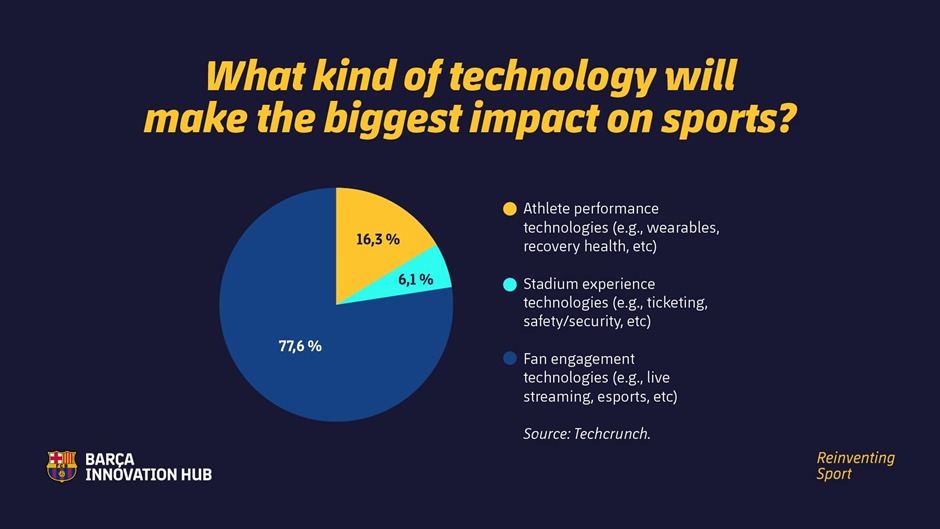 The technologies we have talked about in this article have been part of the sports industry for just a few years. This reminds us of the speed in which the way we consume entertainment can change. 
It's impossible to know precisely what new experiences will be available in the near future. However, virtual reality technology seems to be a clear commitment on the part of the sports industry. Virtual Reality goggles are little by little becoming commodity products thanks to a supply growth and price decreases. This will ease their implementation in new ways of viewing sports events. 
DO YOU WANT TO KNOW MORE?
KEEP UP TO DATE WITH OUR NEWS
Do you have any questions about Barça Universitas?
Startup
Research Center
Corporate
PLEASE COMPLETE THE FIELDS:
PLEASE COMPLETE THE FIELDS:
PLEASE COMPLETE THE FIELDS:
The Form has been sent successfully.
PLEASE COMPLETE THE FIELDS:
PLEASE COMPLETE THE FIELDS:
PLEASE COMPLETE THE FIELDS:
The Form has been sent successfully.
PLEASE COMPLETE THE FIELDS:
PLEASE COMPLETE THE FIELDS:
PLEASE COMPLETE THE FIELDS:
The Form has been sent successfully.