The good old days were better?
We cannot deny the power of nostalgia in our lives. It is a unique defense mechanism, the result of our evolution, and the incredible time machine that we have in our head, our brain.
In the seventeenth century, nostalgia was treated as a disease by doctors at the time. The origin of the concept is not at all associated with something positive. Nostalgia comes from 'nostos' (return), and 'algos' (pain).
Did we live better in the past?
As Franklin P. Adams said, "Nothing is more responsible for the good old days than a bad memory."
What does data say about it? According to the World Health Organization, since 2000, our life expectancy has increased by five years. Globally, life expectancy has not stopped rising during the last ten years, reaching 72.56 years in 2018, according to figures from the World Bank.  
According to the same institution, the global poverty rate has not stopped falling from 1990 to 2017. However, something has gotten in the way of the goal of reducing global poverty to 3% by 2030: the pandemic. We are going through a situation that has lasted almost two years since the first reports.
This will reverse the trend in poverty reduction for the first time in more than 20 years. Despite the tremendous economic crisis in 2008 and the conflicts in some world areas, in overall figures, humanity was fighting poverty and extreme poverty effectively, until now.
The mechanics of nostalgia
According to experts, nostalgia reflects our need to stop time. We listen to a song, watch a movie, or read a book to remember and transport ourselves to a moment in our lives.
Today, in the digital content age, almost everything is stored and tagged in our phones, in the cloud, or on streaming platforms. So why do we like to keep classics on our shelves? According to psychologists, this is partly because we need to feel that we gain control of situations. Having immediate access to another, better time gives us security.
In a situation with as much uncertainty as to the current one, this feeling only increases. This principle is not new. In Spain, for example, society is experiencing an interesting moment in terms of nostalgia.
Precisely now, we are in a moment where three generations (Generation X, Millennials, and Generation Z) live together actively at the same time. Nostalgia materializes in entirely different things, but it essentially responds to the same thing.
Recalling events from the past or turning to traditions to build an identity is particularly effective in feeling safe in troubled times.
In a nostalgic context, the mind discriminates against the negative and praises the positive to create an idealized past image. Even in a moment as polarized as the current one, the nostalgia generated by remembering shared moments such as a concert, a game, a movie, or any event that we treasure in our memory reduces conflict barriers and creates empathy.   Recent studies suggest that nostalgia could exert a function of psychological homeostasis. This mechanism counteracts our lack of social support and feeling of exclusion, therefore raising our sense of social connection and empathy.
The value of nostalgia
Nostalgia comforts, connects, and gives us security. It is an incredible resource that is more effective in uncertain times. Marketing knows that, and that's why we see how nostalgia systematically surrounds us. Whether remembering Michael Jordan, paying hundreds of Euros for a Jurassic Park shirt from 1992 or Nirvana, nostalgia exists for all generations. We find one of the best examples in Stranger Things, with calculated and precise formula, the popular Netflix series that premiered in 2019 and is about to release its fourth season. It doesn't matter if we had the opportunity to see Back to the Future in the cinema, or if we were not even born when it was already a classic. Stranger Things is a master class in the mixture of all those moments that transport us to a happy past for some and to an authentic place, full of style and exciting people for others.
We call 2021 the year of nostalgia. It is not just a temporary trend. Brands such as Burger King have entirely redesigned their brand image to take it back to its beginnings. Tik Tok has experienced one of its most significant trends with "High School Musical." Additionally, the return of the main characters of the iconic series "Friends" in a special that the HBO network premiered recently has catapulted the series again at the top of the list. The most awarded campaign in Spain in 2021 is based precisely on nostalgia by bringing back the flamenco artist Lola Flores.  
Nostalgia in sports
We all need moments of comfort. We all need hope, and the world of sports is no exception, where it not only helps to remember historical moments and as a hallmark. A study conducted at the last football World Cup, suggested that not only nostalgia for past sporting times plays an important role, but also the experience of similar events, such as past World Cups. This can be applied by extension to any sporting event such as league matches, European championships, Olympics…
Our experience in the past influences our behavior in the present. According to the previously mentioned study, from experience, we understand the environment, socialization, personal identity, and national identity in the case of a world cup, a European championship, or the Olympics. As for the nation, our identity reflects in our region and our team.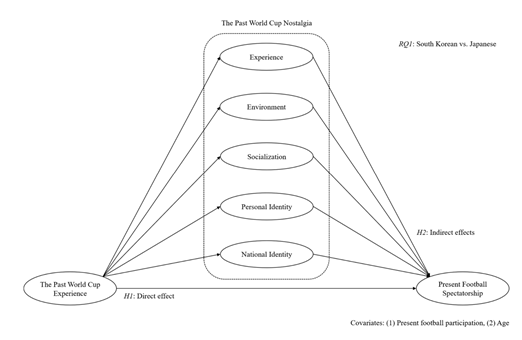 Sport is, above all, an experience stored in our memory. Sounds, emotions, images, and smells can be reactivated through advertising campaigns or thanks to technology.
Recently, the popular football video game FIFA in its 2021 version has brought Kiyan Price back to life; a player tragically murdered 15 years ago while trying to stop a fight. Coaches, players, friends, and family trained an AI concept and made the miracle possible.
The world of sports rests on the foundations of nostalgia. It is about legends that gave us unforgettable times. Legends such as Magic Johnson, Michael Jordan, Johan Cruyff, Pelé, or Maradona. Icons such as Nadia Comaneci, Gervasio Deferr, or Miguel Induráin; the feeling of belonging to something bigger, give us identity beyond a few colors or a shield, it is so strong that it is beyond rivalry between fans. Nostalgia connects us.
It is in the essence of sports to constantly surpass yourself, break records, pulverize marks. The new generations are re-writing how we understand sports. However, we still need icons and memories to be placed on an altar that is constantly renewed generationally, but responds to the same emotional essence for thousands of years.
DO YOU WANT TO KNOW MORE?
KEEP UP TO DATE WITH OUR NEWS
Do you have any questions about Barça Universitas?
Startup
Research Center
Corporate
PLEASE COMPLETE THE FIELDS:
PLEASE COMPLETE THE FIELDS:
PLEASE COMPLETE THE FIELDS:
The Form has been sent successfully.
PLEASE COMPLETE THE FIELDS:
PLEASE COMPLETE THE FIELDS:
PLEASE COMPLETE THE FIELDS:
The Form has been sent successfully.
PLEASE COMPLETE THE FIELDS:
PLEASE COMPLETE THE FIELDS:
PLEASE COMPLETE THE FIELDS:
The Form has been sent successfully.