September 1, 2022
Medicine
Sports Performance
Pre-season Medical Evaluations: An Effective Tool to Identify and Prevent Pathologies and Injuries
Health benefits of physical activity are evident. It does not only improve the quality of life but it is also considered one of the most effective measures to prevent chronic diseases. However, the performance of physical activity or the conditions under which it is carried out may trigger the development of other diseases or worsen the existing ones. The health of a person who is prone to asthma, for instance, could deteriorate if they perform long resistance training sessions, even more if they are carried out under adverse environmental conditions.
This also occurs in elite sports since performing high-intensity physical activity may increase the risk of cardiovascular diseases which may sometimes lead to sudden cardiac death. In this sense, medical evaluations carried out during the pre-season are considered an essential tool for both young and adult athletes since they are key to identify these disorders and decide on their treatment early in order to avoid any possible long-term consequences. The main objective is to assess the athlete's fitness and the possible consequences that different diseases and injuries might have in performance.
Considering that, Dr. Ramon Pi-Rusiñol, specialist in sports medicine, led a study (read reference 1) based on the sports medical evaluations carried out when joining the club in order to describe the 12-35-year-old athlete niche as new signings.  Each one brings a history of past diseases and injuries to which the findings of the club examinations are added. Especially those on ECG, stress tests, and echocardiograms which belong to the field of cardiology. 
The sample, data collected by FC Barcelona between 2008 and 2018, was based on a total of 2574 medical evaluations performed on athletes of 5 professional and 7 non-professional disciplines. The club medical staff carried out these comprehensive evaluations having two objectives in mind. On the one hand, being able to detect any pathology that might pose a risk to the athlete's health or any medical issue that could prevent them from participating in high-performance sports. On the other hand, identifying medical conditions, especially risk factors that may cause the athlete to suffer injuries as a result of the sports training.
Pathological Conditions in Apparently Asymptomatic Athletes
The results obtained from the medical evaluations enable the categorisation of athletes into three groups. Most of them (1824; 70.9%) didn't record anomalous results. Thus, they were classified as healthy. Other 495 (19.2%) presented pathological conditions while 255 (9.9%) had minor abnormal findings; this is, frequent pathologies without significant consequences. The number of athletes with significant pathologies was really high considering that many of them were apparently asymptomatic people. In adults, the most common pathologies were respiratory and immunological ones. In youngsters, the most frequent conditions were neurological, psychological, and psychiatric disorders. All the athletes with pathological conditions had to undergo regular monitoring processes every 6 or 12 months.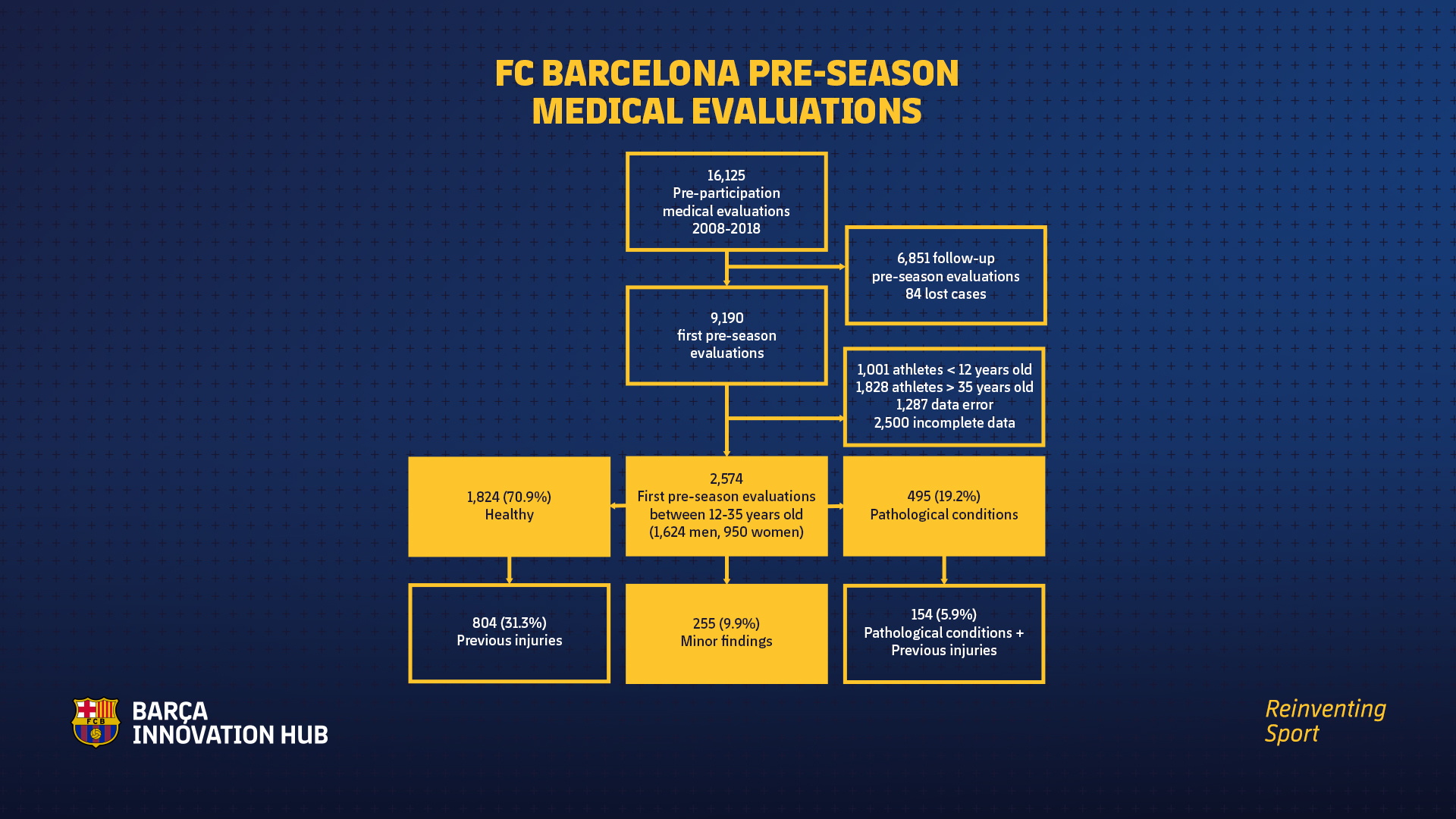 Cardiovascular diseases were identified in 34 athletes (1.4%). The most common were the ones affecting valves. More than 12 athletes had a bicuspid aortic valve. This abnormality makes it difficult for the heart to pump blood to the main artery of the body. On the other hand, five young athletes suffered significant arrhythmic disorders. Three of them were diagnosed with Wolff-Parkinson-White, one with sustained ventricular tachycardia, and the other with neonatal resuscitation after a cardiac arrest.
The number of previous musculoskeletal injuries that were detected among the participants was also significant since it affected more than a third of them. A total of 958 athletes (37.2%) suffers from these injuries, some of them in a multiple way which led to a total of 1769 detected injuries. The most common ones were bone fractures, followed by joint, muscle, and tendon injuries. The most affected areas were the hip and the hand, followed by ankle, knee, thigh, and shoulder.
Anticipated and Effective Answers for Athletes
By means of the data provided by the medical staff of FC Barcelona, the study concluded that a significant proportion of the athletes who underwent medical evaluations had previous records in their injury and disease history both of pathological conditions and minor findings. Thanks to pre-season medical evaluations, early and specific treatment could be provided to athletes apart from developing preventive strategies. This proceeding was particularly effective in the detection of well-known and unknown cardiac disorders.
Reference
Ramon Pi-Rusiñol, María Sanz-de la Garza, Gonzalo Grazioli, Manel García, Marta Sitges, Franchek Drobnic,




Pre-participation medical evaluation in competitive athletes: the experience of an international multisport club,




Apunts Sports Medicine, Volume 57, Issue 213, 2022, 100369, ISSN 2666-5069,




https://doi.org/10.1016/j.apunsm.2021.100369.
DO YOU WANT TO KNOW MORE?
KEEP UP TO DATE WITH OUR NEWS
Do you have any questions about Barça Universitas?
Startup
Research Center
Corporate
PLEASE COMPLETE THE FIELDS:
PLEASE COMPLETE THE FIELDS:
PLEASE COMPLETE THE FIELDS:
The Form has been sent successfully.
PLEASE COMPLETE THE FIELDS:
PLEASE COMPLETE THE FIELDS:
PLEASE COMPLETE THE FIELDS:
The Form has been sent successfully.
PLEASE COMPLETE THE FIELDS:
PLEASE COMPLETE THE FIELDS:
PLEASE COMPLETE THE FIELDS:
The Form has been sent successfully.