November 12, 2021
Events
"Football stars with long careers have come so far because they invested in nutrition."
The Gastrosport day at the Sports Tomorrow Congress has sought the answer to the big question posed by the development of sports nutrition. Is it possible to reconcile gastronomy and sports? As Toña Lizarraga and Mireia Porta of FC Barcelona have explained, the relationship between chefs and nutritionists in elite sports organizations is one of the most important challenges that have arisen in recent years with the development of sports sciences.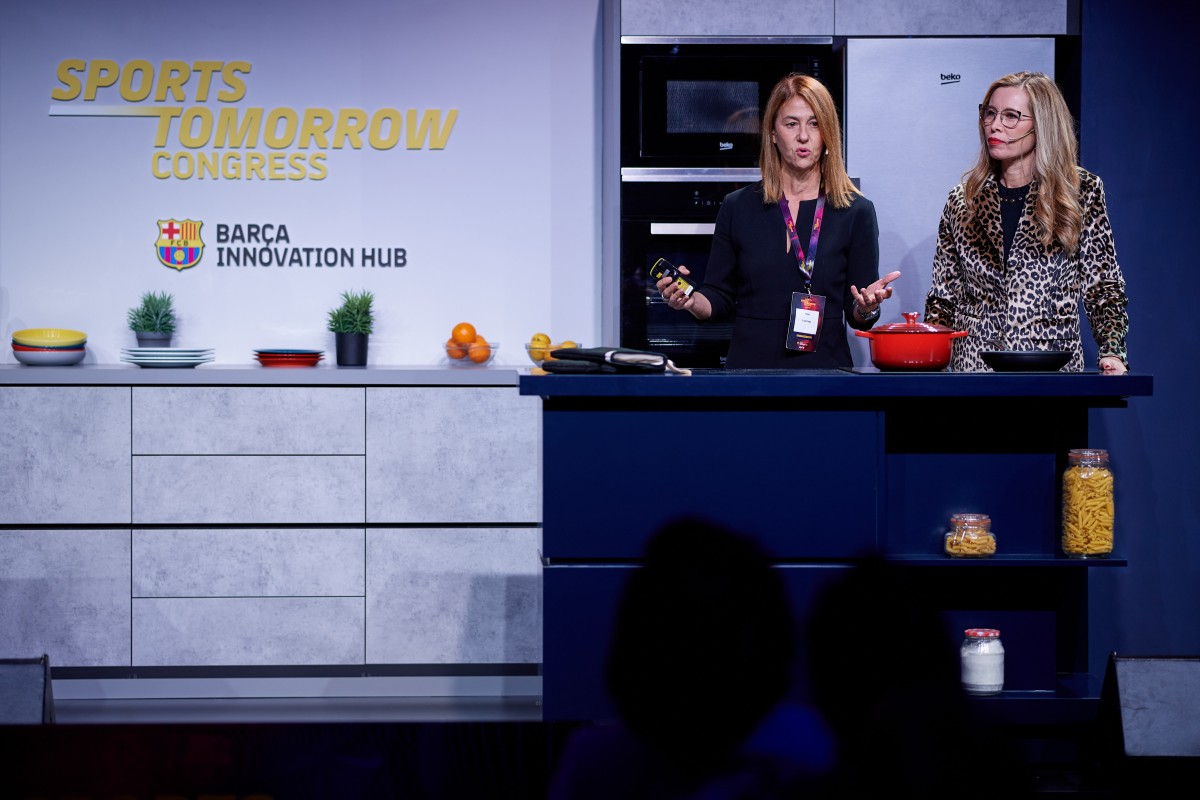 Chef Josep Maria Kao has perfectly exemplified the problem. When a player is beaten on the training field or in the gym, when entering the dining room, he/she does not want to be beaten again. You need attractive foods that are a pleasure and satisfy you, even if they have to be perfectly controlled and planned in terms of composition and quantities. "The athlete has to think is how good I'm going to eat!" he said. Therefore, the success of the joint work of chefs and nutritionists consists of fulfilling their professional obligation by achieving that satisfaction.
"Nutritionists and chefs speak the same language, the language of food"
Lizarraga and Porta have emphasized that eating is useful for bringing energy, but for humans food enters the field of art, that is gastronomy, and the search for sensations with food, even hedonism, cannot be shredded. Above all, because there are multiple formulas and alternative paths to achieve this. In this regard, Ian Rollo, of the Gatorade Sports Science Institute, has noted that nutritionists and chefs "belong to two different worlds" and this can generate some conflict between them. In his opinion, it is more common for experts in this field to come from the fields of game rather than the other way around, although both professional profiles "speak the same language, the language of food," but in this case there would be two dialects, the love for ingredients of a chef and the love for functionality of a nutritionist.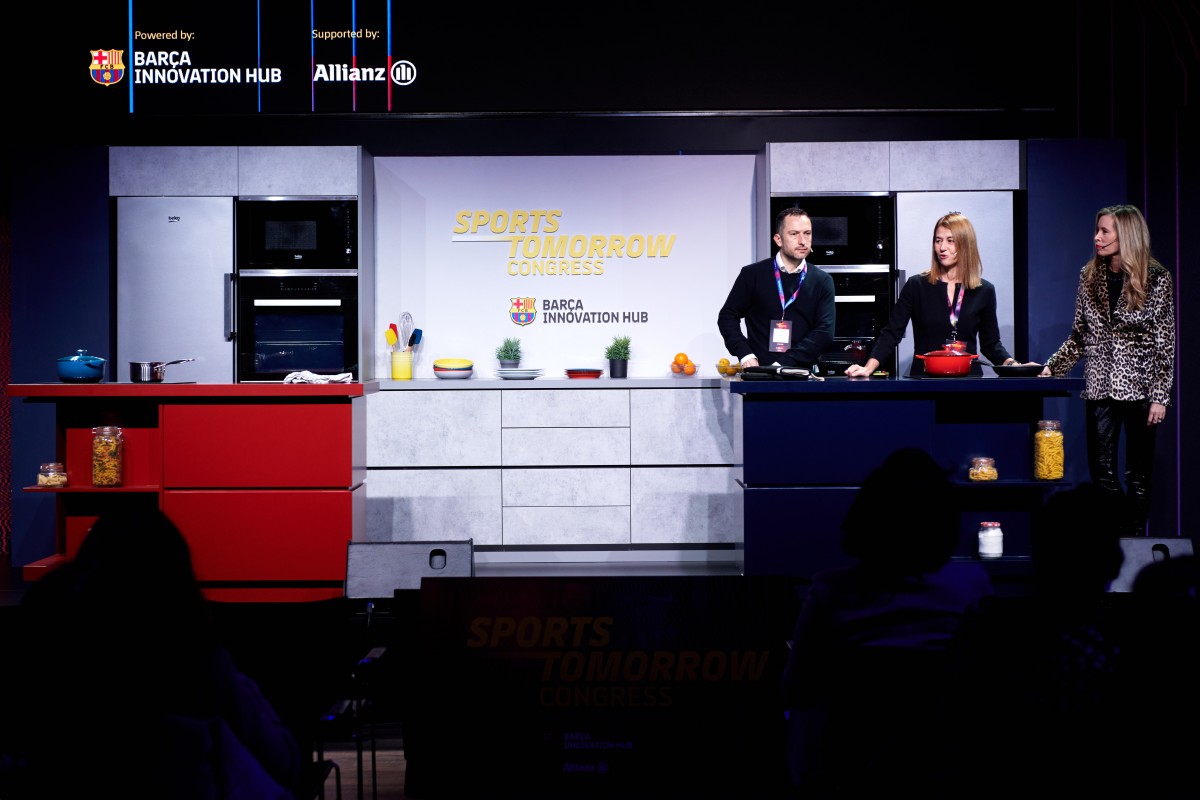 Asker Jeukendrup is an example of the interaction of the two roles. Working with a cycling team, he worked with an app that absolutely recorded all the meals they made. They knew their exact diet that was useful for planning all the details about the competitions. A complicated strategy, because not only did they have to determine the menus according to the stage they were going to dispute – plain, mountain, counter-clockwise – but they had to plan on the map which points of the highway – rounds, slow phases – were adequate to deliver the food to them, since carrying them on top would mean an extra weight.
"Cyclists have to maintain a stable weight while competing"
Another novelty he introduced was a mobile kitchen where he prepared food without depending on the facilities offered by the hotels where they stayed during the test, places where hygiene was not guaranteed and space depended on the generosity of local chefs. However, many of the menus were pre-prepared and vacuum packed. Cyclists could lose up to 7% of their body mass in a test. Jeukendrup's challenge has been that while they compete, they maintain a stable body weight.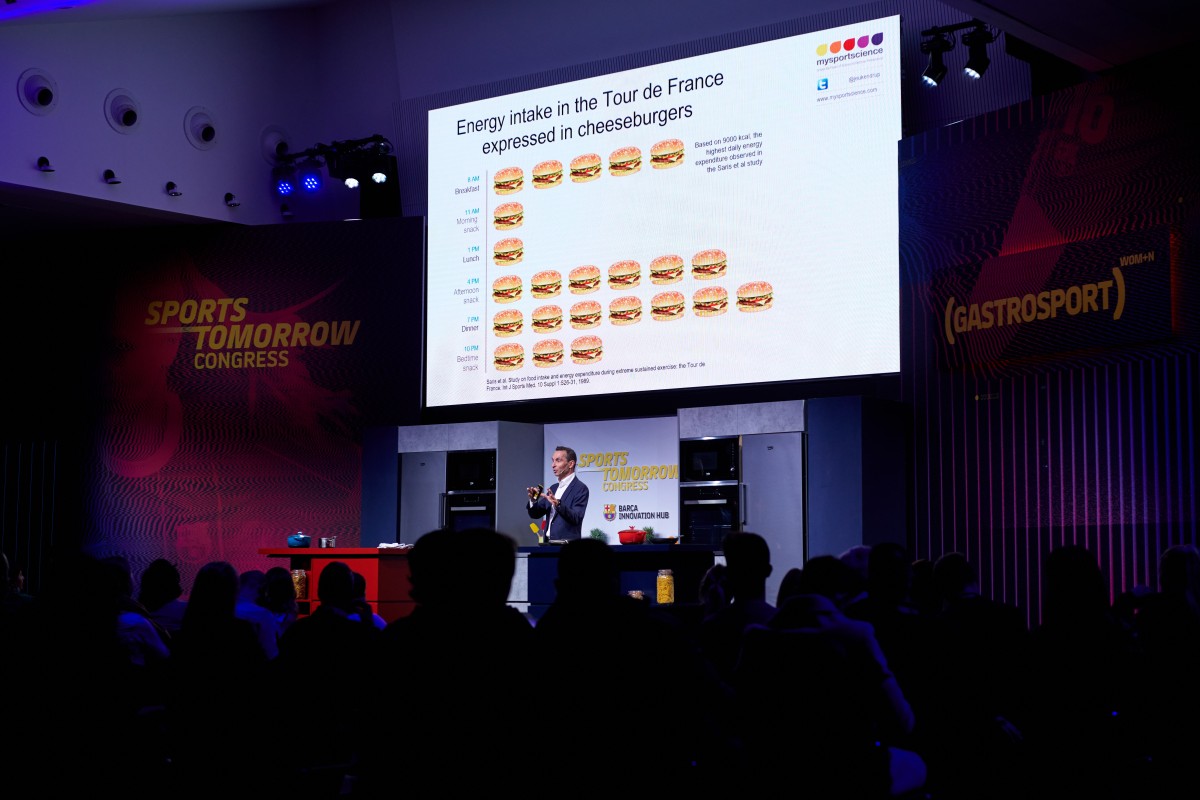 In the world of rugby, Graeme Close has added that it is important for food planning to have a margin of flexibility, that the player can choose to increase his satisfaction, "it is better to push players in the right direction instead of telling them exactly what to do." From his point of view, there is an important mood component in food that should be encouraged. One example is that when he was traveling with the team, he always tried to offer dishes inspired by the place where they were. Small details to improve the mood of the workforce. All this without neglecting research and an exhaustive work as a nutritionist. For example, Close, reading about the diet of miners from a century ago, found that they increased sodium intake to avoid cramps. Something that is perfectly applicable today. Their solution, specifically, was to introduce cereals with salt and banana into the menu. "You have to get out of the chicken and boiled rice dishes, the food can be fun and contain everything athletes need," he said.
"You have to achieve a balance between protein and plant"
Several chefs have also contributed their opinions on Gastrosport. Xavier Pellicer, for example, has proclaimed that diet can transform, body, mind and even skin. He has advocated for seasonal food, because the field also has its cycles, such as training for athletes. From his experience, the most appropriate thing to do is to follow the line that marks the needs and tastes of the player and "accompany him/her so that eating achieves his/her goals or state in the desired way, as if it were the recovery of an injury". However, what he always modulates is the balance between vegetable and protein. His ideal is 30% of protein per dish so that the intestine "works more calmly", but this is always subject to the performance needs or to the ecological or biodynamic approaches with which you want to work.
Anthony Audebaud, who has worked as Ousmane Dembélé's personal chef, has revealed that in close dealings with footballers you have to earn their trust, especially if you want to customise a menu. The players put up with "brutal" pressure, he said, and we have to try to make sure that their food "is exciting and tastes good". The properties of food for recovery are very broad, for example, he cites the case of turmeric, which is a natural anti-inflammatory.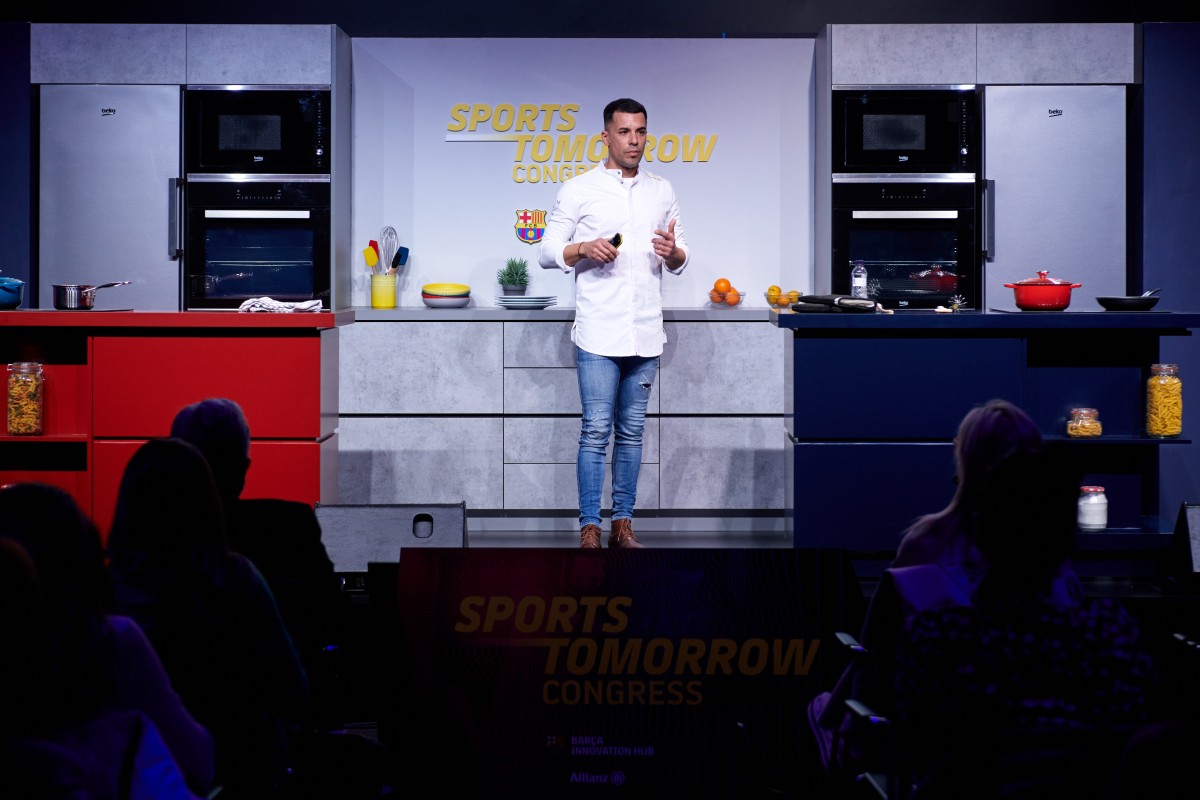 The PSG chef, Guislain Recoules, has complained that the calendar overload, three games a week, leaves very little margin for the chef's creativity. To respond to the cosmopolitan nature of the elite squad, he has a team of seven chefs, each specialising in the cuisine of a specific continent. When there are away trips, Recoules travels a day and a half in advance to prepare the menus. Details are important to maintain player satisfaction whilst providing them with appropriate snacks, quick food must be on hand, or smoothies, in which anti-inflammatory, antioxidant or recovery properties have to be provided, whether the players like them or not.
"Footballers who have achieved long careers have done so because they invested in nutrition."
Creativity, however, is the most important thing for Jorge Samuel Gutiérrez González, chef of the Manchester City. In his position, he needs to convert typical English fare into healthy food, such as waffle-shaped sweet potatoes. He believes that investing in gastronomy and nutritionists is money well spent, because if players get injured less, the club saves money. As for the players, it's been shown that the biggest stars are having longer careers than usual because, very early in their careers they understood the value of nutrition and applied it. You reap what you sow.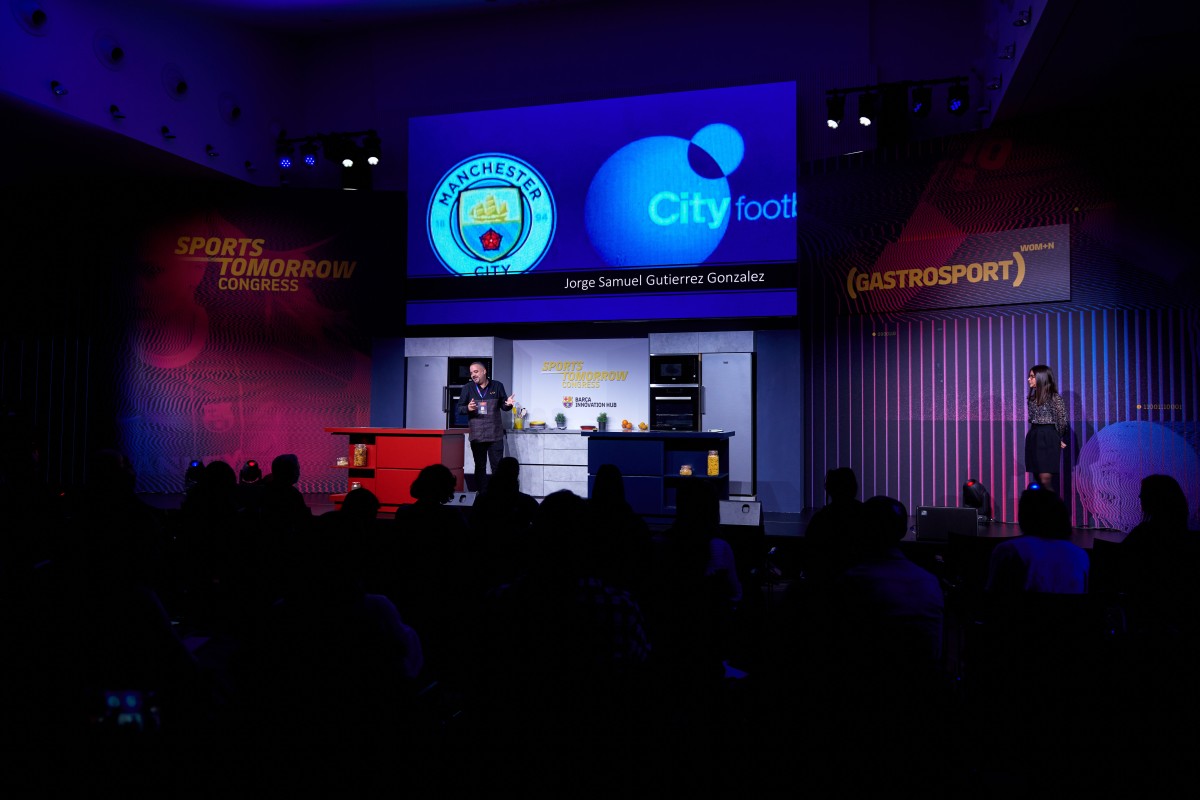 "Eating more foods of plant origin helps cardiovascular health, sports performance and to prevent cancer, the scientific evidence is very clear", says Chef Alex Pirla, who has explained the wide variety of recipes and possibilities that are also available in vegetarian, vegan or flexitarian diets. In fact, plant-based protein is not only good for people, it is also good for the planet. He highlights the role that Heura (a type of vegetable-based meat) is beginning to play. "It's like eating chicken, because you like the flavour, but you save deforestation and killing animals."
"Sometimes it's enough that a dish is well presented for the athlete to find it acceptable"
As an example of his range, he cooks a lentil tart, which although contains pulses, is not a heavy food. Accompanied by a beetroot purée, because it helps oxygen reach the muscles, and avocado. It also influences the presentation of the dishes. It is very important, in his opinion, because if a player has to eat food that they don't like, they shouldn't be put off at first glance at least. Sometimes the player will accept it if it is well presented.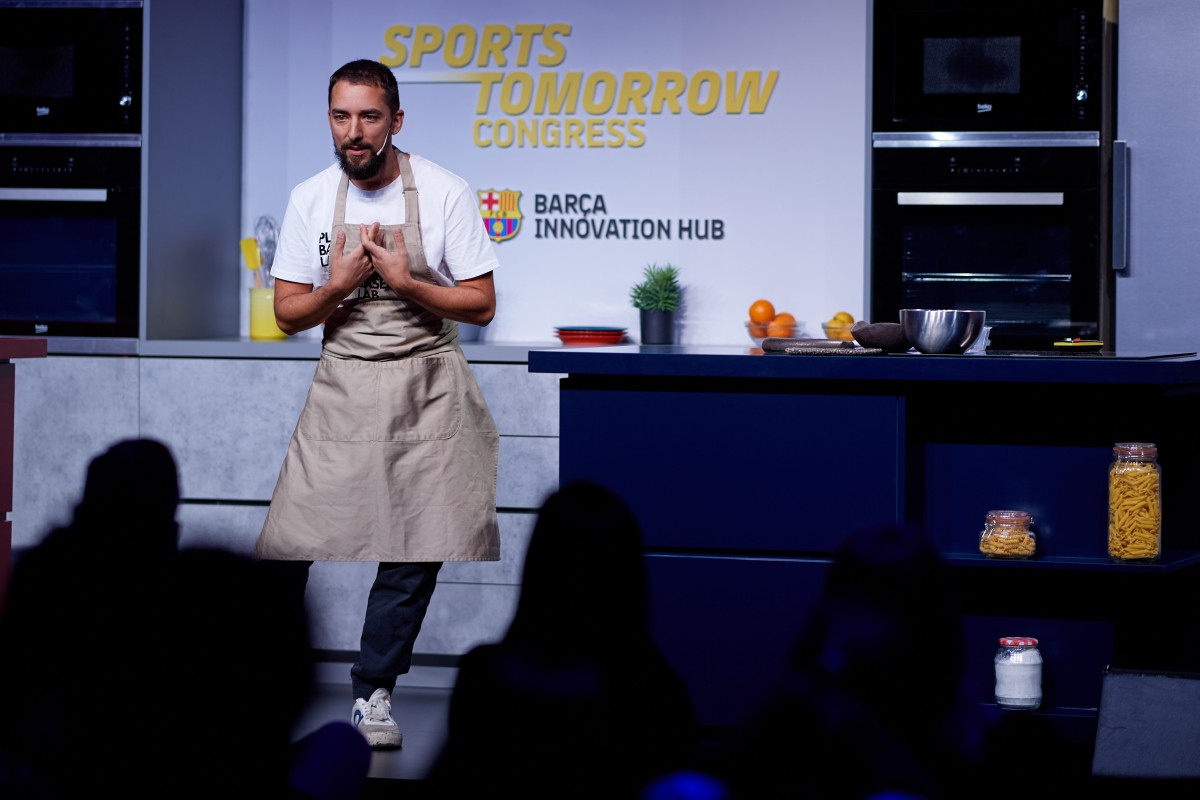 Finally, Josep Maria Kao has praised the virtues of Chinese food for athletes. "It's one of the oldest and healthiest", he said, and has everything that players need: "good texture, it goes into small portions easily and it's easy to digest." After working with the women's Barça players, Marc de Dios faced a challenge that entailed planning menus for a player who was celebrating Ramadan, i.e. to solve all the energy needs of the day in two evening meals. There he coincides with Kao's main thesis that athletes have to enjoy sitting at a table, when he concluded: "if you haven't eaten all day, you can't find steamed broccoli.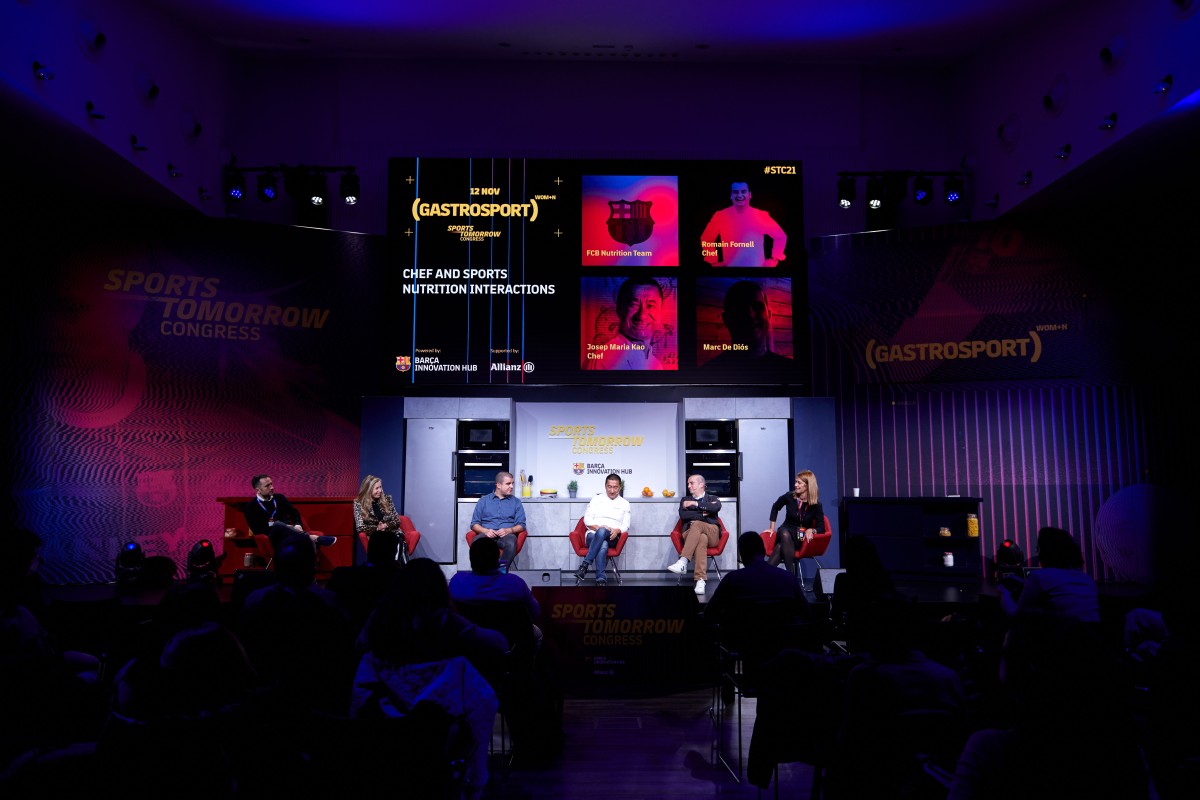 DO YOU WANT TO KNOW MORE?
KEEP UP TO DATE WITH OUR NEWS
Do you have any questions about Barça Universitas?
Startup
Research Center
Corporate
PLEASE COMPLETE THE FIELDS:
PLEASE COMPLETE THE FIELDS:
PLEASE COMPLETE THE FIELDS:
The Form has been sent successfully.
PLEASE COMPLETE THE FIELDS:
PLEASE COMPLETE THE FIELDS:
PLEASE COMPLETE THE FIELDS:
The Form has been sent successfully.
PLEASE COMPLETE THE FIELDS:
PLEASE COMPLETE THE FIELDS:
PLEASE COMPLETE THE FIELDS:
The Form has been sent successfully.