BUILDING THE FUTURE OF THE SPORTS INDUSTRY
DIGITAL LEARNING PLATFORM
Barça Universitas is Barça Innovation Hub's digital platform for the transmission of knowledge, and allows knowledge to be valued and shared with the world, through training programs.
What will you find in Barça Universitas?

24-HOUR ACCESS TO STUDY MATERIAL, FROM ANYWHERE, ON ANY DEVICE

VIRTUAL COACHING, FOLLOW-UP, AND SUPPORT FROM A SUBJECT EXPERT

ACTIVITIES AND ASSESSMENTS WITH PERSONALIZED FEEDBACK

DISCUSSION FORUMS AND INTERACTION WITH COLLEAGUES FROM ALL OVER THE WORLD

CERTIFICATE ISSUED BY BARÇA INNOVATION HUB AND ENDORSED BY THE CORRESPONDING INSTITUTION.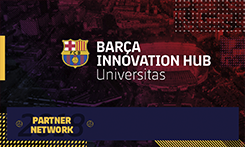 Barca Universitas has a network of prestigious institutions that disseminate, promote and expand the scope of professional training programs worldwide. Z Sport is a member of the network in Perú , and is allowed to share sports knowledge with all professionals in that country.