Understanding fatigue after playing a football game and the recovery profiles of biological systems are two key elements to improve training programmes and reduce players' injuries. The number of official matches that professional players play each season has significantly increased in the last few years. Apart from the regular league matches, the top teams have to play European competitions, other local championships, or international games with their corresponding national teams. If in the 1970s the number of games that the European Cup Champion team played reached 40, in the last few years, this number has gone up to 70 matches. For example, in the season 2018/2019, F.C. Barcelona played 60 official games, meaning a game each 4.5 days; taking into account that on several occasions, two games are played in 3 days. Trips and training sessions should also be included: as more than 250 annual training sessions can be done. Game overload is a threat to team performance.1,2
Are 72 hours between two games enough for recovery? Should there be more resting periods? A recent publication has analysed the effect on fatigue while playing a football game, and how the players' recovery evolves in different physiological, neuromuscular, technical, and biomechanical parameters and perceptive responses.3 To do so, they studied acute and residual fatigue for five different moments: during rest, during a match, and after the game during the next 24, 48 and 72 hours. Conclusions are based on the revision of 77 research articles that should meet the following criteria: to be published in English, longitudinal studies in regard to football players, the duration of the match should be longer than 45 minutes and the data collection protocol should be validated.
The results of the review suggest some very relevant conclusions.
At the half time, alterations were found in immunological parameters (for example, in leukocytes, Effect Size (ES) = 1.9), a moderate decrease in insulin concentration (ES = – 0.9), a slight to moderate impairment in muscle function for lower extremities (ES = -0.5 to -0.7) and a reduction in some physical performance indicators (for example, in the straight-line sprint, ES = -0.3 to -1.0).
Post-game, all the analysed markers related to fatigue showed clear deterioration.
The hamstrings' ability to generate strength (ES = -0.7), some physical performance parameter (ES = 0.3-0.5), the Creatine Kinase values (CK, ES = 0.4), the welfare perception (ES = 0.2-0.4) and Delayed Onset Muscle Soreness (DOMS, ES = 0.6–1.3) remained substantially affected during the 72 hours after the match. However, other parameters, such as technical performance or circulating hormones (for example, testosterone and insulin) recovered completely in the 72 hours after the game.
Figure 1 presents the evolution in rest, immediately after and one (G+24h), two (G+48h) and three (G+72h) days after the game in regard to some neuromuscular, biomechanical, physical performance and perceptive response indicators.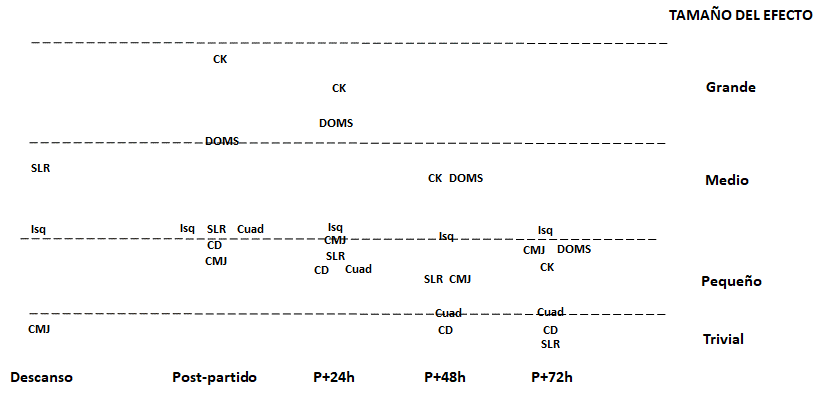 In any case, these results should be taken with caution, as (i) most of the studies reviewed have controlled the players' recovery after the game and within the following 24 hours, (ii) the analysed teams have different competitive levels, (iii) no differentiation has been made between men and women and (iv) climate conditions have not been taken into account.
In conclusion, while some parameters (for example, hormonal and technical) are completely recovered, it seems that a period of 72 hours after the game might not be enough to completely recover the homoeostatic balance (for example, muscle damage, physical condition, and welfare perception). The recovery period cannot consist of a single strategy for all of the athlete's systems. Caution should also be applied with training loads proposed in this recovery window, as they could be harmful to obtain an optimal restoration of the athletes' abilities. Medical personnel and coaching staff should implement methods that can optimise the player's physiological and psychological condition. The load control in the game could help to better estimate the real effect of the competition on residual and acute fatigue. The long recovery period that characterises the CMJ, the hamstring strength, the CK and the DOMS suggest that these parameters could be included in a battery of tests to control recovery. Moreover, nutritional values are very important to ease recovery. Other additional measures could be, according to "At the Limit: Player Workload in Elite Professional Men's Football report",4 developed by FIFPro and the consensus of the International Olympic Committee: (i) Implement a 96 hours rest period between two games; (ii) introduce mandatory breaks of 4 weeks off-season and of 2 weeks mid-season; and (iii) consider the possibility of imposing an annual cap of games for each player in order to protect their health and performance.
Carlos Lago Peñas
References:
1 Ekstrand J, Waldén M, Hägglund MA. Congested football calendar and the wellbeing of players: correlation between game exposure of European footballers before the World Cup 2002 and their injuries and performances during that World Cup. Br J Sports Med 2004; 38:493-7
2 Ekstrand J, Waldén M, Hägglund M. Hamstring injuries have increased by 4% annually in men's professional football, since 2001: a 13-year longitudinal analysis of the UEFA Elite Club injury study. Br J Sports Med 2016; 50:731–7.
3 Silva JR, Rumpf MC, Hertzog M, Castagna C, Farooq A, Girad, O, Hader K. acute and residual soccer match-related fatigue: a systematic review and meta-analysis. Sport Psychol 2018; 48: 539-583.
DO YOU WANT TO KNOW MORE?
KEEP UP TO DATE WITH OUR NEWS
Do you have any questions about Barça Universitas?
Startup
Research Center
Corporate
PLEASE COMPLETE THE FIELDS:
PLEASE COMPLETE THE FIELDS:
PLEASE COMPLETE THE FIELDS:
The Form has been sent successfully.
PLEASE COMPLETE THE FIELDS:
PLEASE COMPLETE THE FIELDS:
PLEASE COMPLETE THE FIELDS:
The Form has been sent successfully.
PLEASE COMPLETE THE FIELDS:
PLEASE COMPLETE THE FIELDS:
PLEASE COMPLETE THE FIELDS:
The Form has been sent successfully.