BIHub's latest pilot project, in partnership with Imverse, seeks to test and measure the impact of holographic technology on the user experience and fan engagement at the Sports Museum. The project involves an interactive holographic experience, where the authentic 3D holographic double of Marc-André Ter Stegen personally welcomes visitors as they discover the club's history and achievements.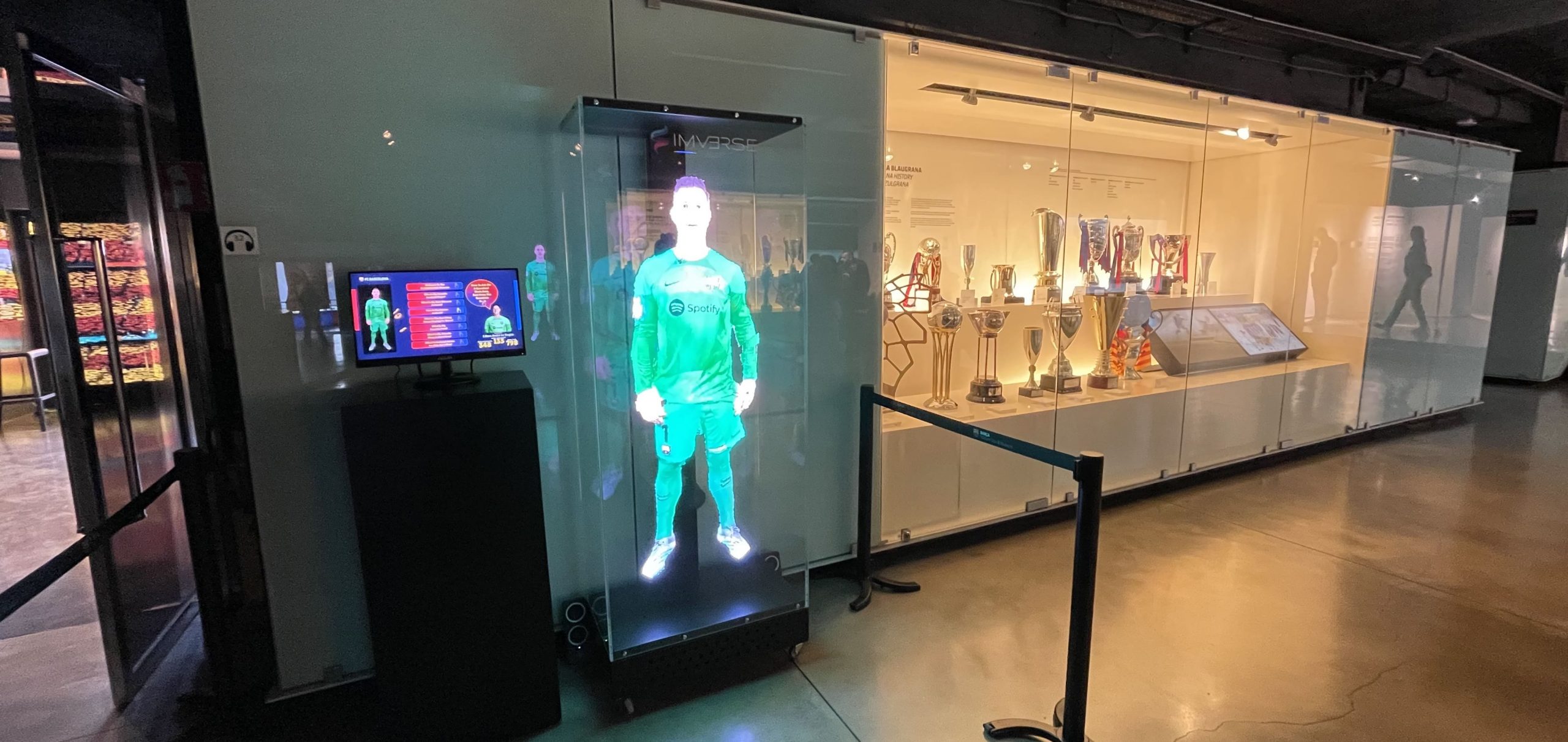 FC Barcelona is currently undertaking this pilot project, as part of its wider mission to find new ways of engaging fans and enhancing their experience, to test and assess the impact of holographic technology on fan engagement. The project is being carried out through Barça Innovation Hub, which aims to continuously explore innovative solutions and initiatives to provide an enjoyable experience for visitors to the museum, and to push the limits of sports in all its variants.
In addition, new forms of welcoming the public can help the museum better reflect changes in the sports landscape and maintain relevance for its audience. This is the approach chosen by the FC Barcelona Museum and technology company Imverse, one of the few global experts in 3D video capture and live rendering. The Swiss start-up, based in Morges, recorded Marc-André Ter Stegen, the club's goalkeeper, interacting with the audience in a holographic booth.
"With Imverse-Holo, our software, we can capture real people, generate their live volumetric video and render their image to scale, in real time and without post-processing or green backgrounds. We can render our content in an environment like this holographic booth, but that could also be in a virtual or augmented reality platform or a 3D screen. We are very proud to have developed this PoC together with Football Club Barcelona," said Javier Bello Ruiz, CEO of Imverse. "Our software is based on voxel technology, 3D pixels, and we want to put our knowledge at the service of the innovation departments of companies that want to develop volumetric video projects in real time," he added.
Why interactivity matters in a sports museum visit?
Interactivity is important in FC Barcelona Museum, because it encourages people to engage with the exhibit and allows them to get a more interactive understanding of the items on display. By being able to explore the items and interact with them, the visitors can gain a deeper understanding of the history, culture, and significance of the club of their choice and develop a greater appreciation for them.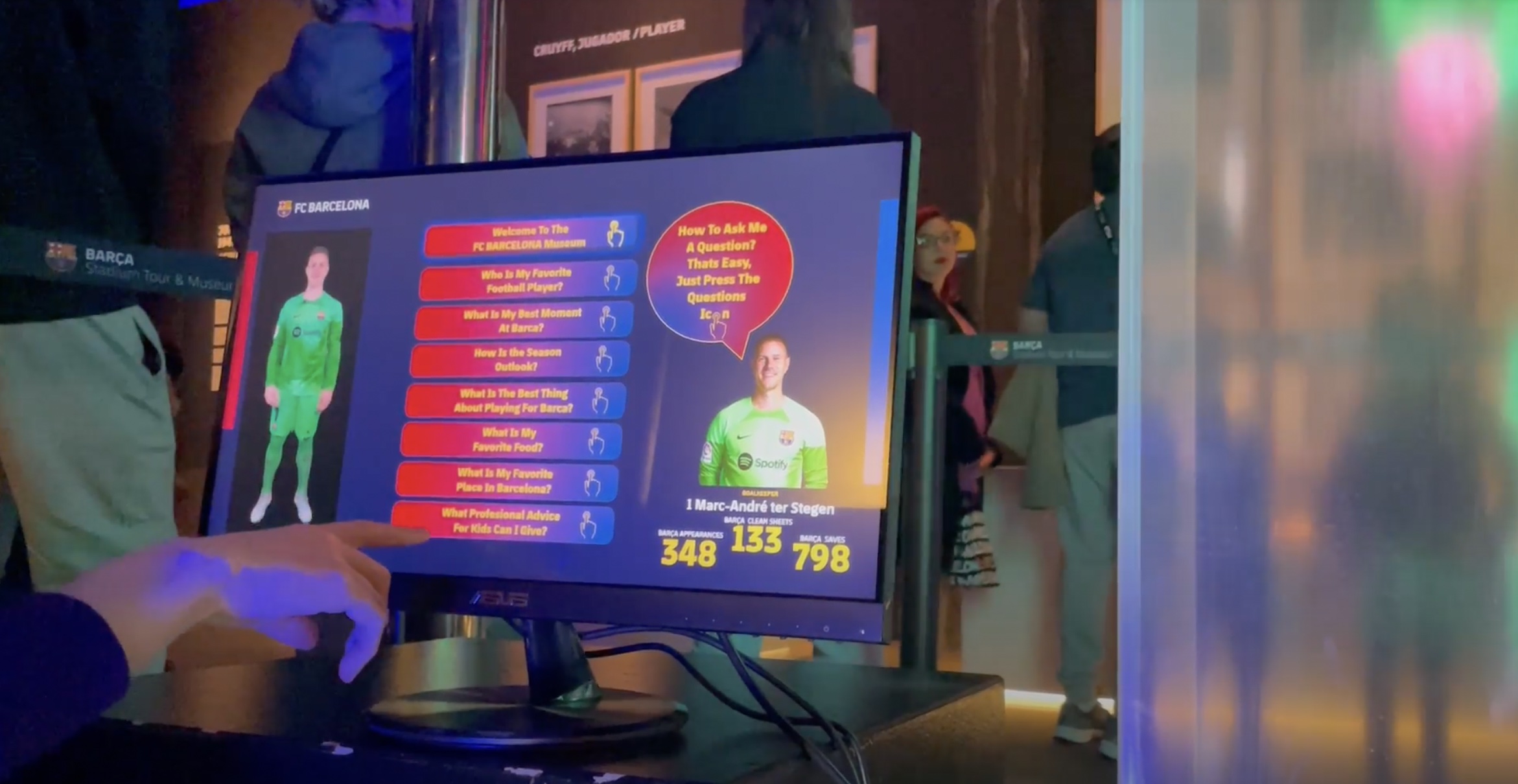 What can visitors expect with this 3D hologram at FC Barcelona Museum?
At the FC Barcelona Museum, you can discover the team's history and achievements over the years, as well as all the trophies they have won. You can also take a tour of the stadium, learn about the legends who have played at the club and much more!
You can visit the photo gallery with pictures of legendary players like Xavi and Andrés Iniesta. Furthermore, you can also visit the multimedia room, which enriches your experience with interactive games and multimedia content. In addition, you will have the opportunity to browse the memorabilia shop and discover iconic items from FC Barcelona. Finally, you can also watch the Barça documentary TV about the team's history and achievements. You can visit the Barça Museum to learn more about the club's history and the treasures it has collected over the years. You also have the opportunity to explore the stadium and the Hall of Fame, with statues of the greatest players and coaches and a collection of trophies. Not only that, but you can also experience the Barça team's training sessions live and even visit the players' home: the Spotify Camp Nou.
What's new is that Marc-André ter Stegen will greet you personally, and you can interact with him to test your knowledge of the stadium and the club during the visit.
Marc-André Ter Stegen is a German professional footballer who plays as a goalkeeper for Spanish La Liga club FC Barcelona and the German national team. He began his career in 2003 with Borussia Mönchengladbach, where he quickly established himself as one of the best goalkeepers in the Bundesliga, making over 150 appearances for the club. In 2012, Ter Stegen moved to Barcelona, where he has since become a regular goalkeeper and key player. He has won numerous individual awards and helped Barcelona win a host of trophies.
Ter Stegen is known for his great reflexes and shot-stopping ability. He also excels at dealing with crosses and kicking off his line. He is highly respected for his outstanding commitment, as he never shies away from diving into the danger zone to claim the ball. His ability to spread himself across the goalmouth to close down angles has made him one of the best in Europe. He is also best known for his long-range passing, which often catches the opposing team off guard and creates scoring opportunities for his teammates.
This new experience can be discovered at the Barcelona Football Club Museum during February.
About Barça Innovation Hub 
Barça Innovation Hub is the platform created by FC Barcelona to manage knowledge and innovation. Its goal is to create an ecosystem that bolsters knowledge and innovation. This ecosystem is based on a model that promotes a culture of excellence and collaboration with prestige brands, universities, research centres, startups, entrepreneurs, students, athletes, investors and visionaries from all over the world.
"We want to showcase the decades of knowledge that FC Barcelona has accumulated on topics such as health, nutrition, high athletic performance, the digital sphere and all topics related to sports and its impact on society." Albert Mundet, Manager of Barça Innovation Hub. BIHub wants to generate new knowledge and create new products and services that can benefit athletes, partners, fans and society in general.
About Imverse
Imverse is a software company with a vision to bring reality live into the metaverse. Their software enables authentic holoportation in real time and on a large scale for businesses and creatives. Using a portable multi-camera system, their software can stream 3D holograms to remote experiences in VR, AR, XR and light field displays without the need for green screens or cloud services. Imverse's holographic telepresence allows a person to perform actions in a remote or virtual location and participate in virtual corporate events, meetings, corporate keynote presentations, remote training and video conferencing as if they were physically present. Reclaim natural interactions and eye contact and reduce virtual fatigue by developing digital solutions where embodiment, presence and agency are key to a more engaging and effective social experience than their 2D versions.
DO YOU WANT TO KNOW MORE?
KEEP UP TO DATE WITH OUR NEWS
Do you have any questions about Barça Universitas?
Startup
Research Center
Corporate
PLEASE COMPLETE THE FIELDS:
PLEASE COMPLETE THE FIELDS:
PLEASE COMPLETE THE FIELDS:
The Form has been sent successfully.
PLEASE COMPLETE THE FIELDS:
PLEASE COMPLETE THE FIELDS:
PLEASE COMPLETE THE FIELDS:
The Form has been sent successfully.
PLEASE COMPLETE THE FIELDS:
PLEASE COMPLETE THE FIELDS:
PLEASE COMPLETE THE FIELDS:
The Form has been sent successfully.