One of the main characteristics in football nowadays is the increase in actions performed at high speed. Its importance is such that, in most cases, goals and decisive actions are preceded by sprints.1 Moreover, it is important to notice that the most prevalent injury among athletes,2 hamstring injury, more than half the times, occurs during a sprint.3 This double aspect places the sprint in a paradoxical situation: The final performance in football is related to the ability to carry out fast actions, but at the same time, these increase the risk of injury.
This could lead us to consider the sprint an "enemy" to be avoided during the athletes' training. Instead, according to experts like Jurdan Mendiguchia or Jean-Benoît Morin, the sprint should be "the means and objective of any effective prevention strategy",4 thus becoming a potential "vaccine" for the hamstring injury. This contrasts with the most common injury-prevention strategies, which, in many cases, ignore the interaction of multiple risk factors implied in the sprint action and focus on factors in isolation, such as strength. Besides, an associated problem is that strength tends to be worked and assessed in low-speed actions and in movement patterns that are not specific of the sprint.5 Because of this, the required demands to improve the strength of this muscle group during regular protocols "are low" if compared to those of an actual game action.4 For example, regular strengthening exercises demand between 18-75 % of electromyographic activity that hamstrings reach during the sprint.6
With all this, preventing hamstring injuries requires a comprehensive approach, in which the sprint movement itself should be the at centre of the prevention programmes. This coincides with the data from a study that showed that those athletes who performed actions at more than 95% of their maximum speed were less likely to get injured than those who performed at 85%.7 It seems that regular exposure to sprint actions act like a "vaccine", reducing the risk of muscle injury.4
This methodological proposal is in accordance with a recently published consensus study8 carried out with the participation of members from FC Barcelona's medical staff, which suggests that the sprint training might be one of the most effective strategies to reduce injury rates. In spite of being a coherent proposal at a conceptual level, there is not still experimental evidence that confirms that the sprint helps reduce the incidence of injuries in the hamstring muscle zone. Because of that, prestigious researchers such as Jurdan Mendiguchia or Pedro Jiménez-Reyes have recently published a study in which they compare the effects of the performance in high speed actions and the muscle architecture of the eccentric hamstrings training ("Nordic" group), one of the most used methodological proposals in sprint training ("sprint" group) (sprint training programme attached, Table 1).9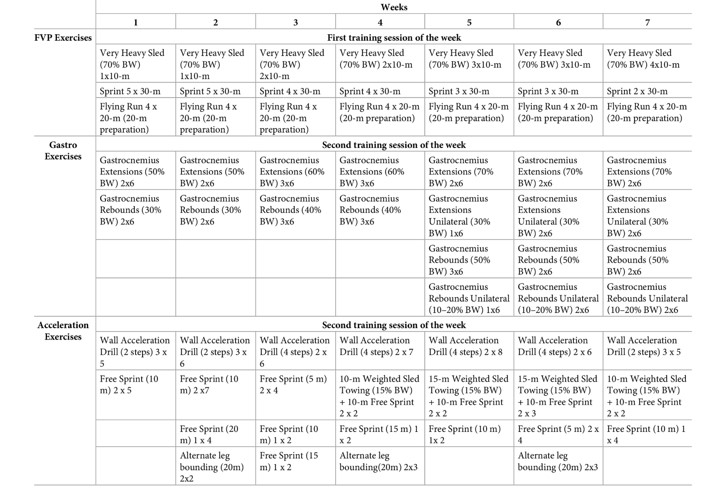 The results showed that the "sprint" group got improvements from small to big size in the sprint performance variables (maximum force, maximum power, the maximum value of the force ratio), except for the maximum speed (Figure 1). Instead, negative, or trivial changes were seen in the "Nordic" group or the "football" group (that kept training as usual). Regarding the architecture of the long head of the biceps, the "sprint" group increased its length even more ("sprint" group 16 % versus "Nordic" group 7 %) (Figures 1 and 2).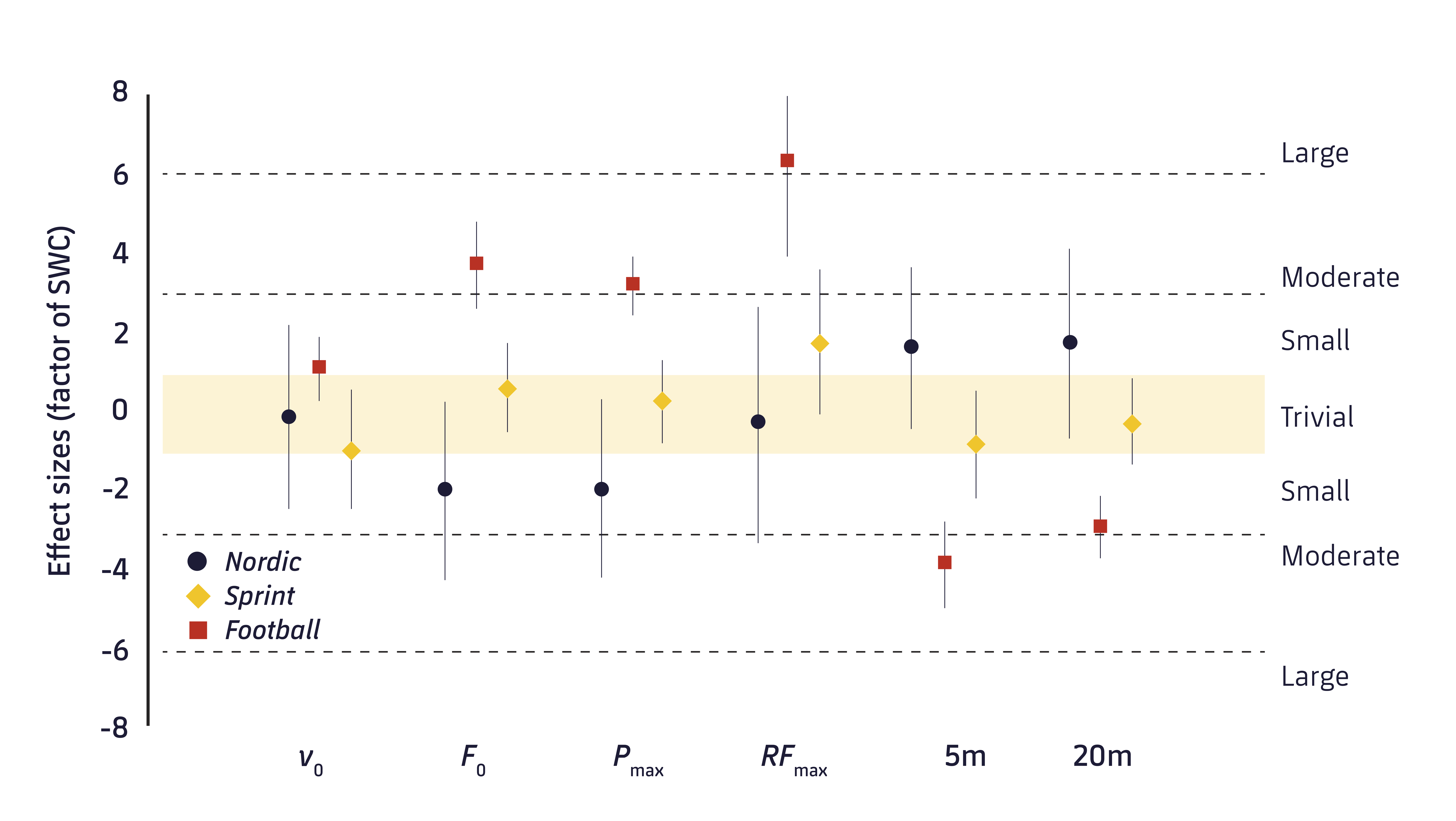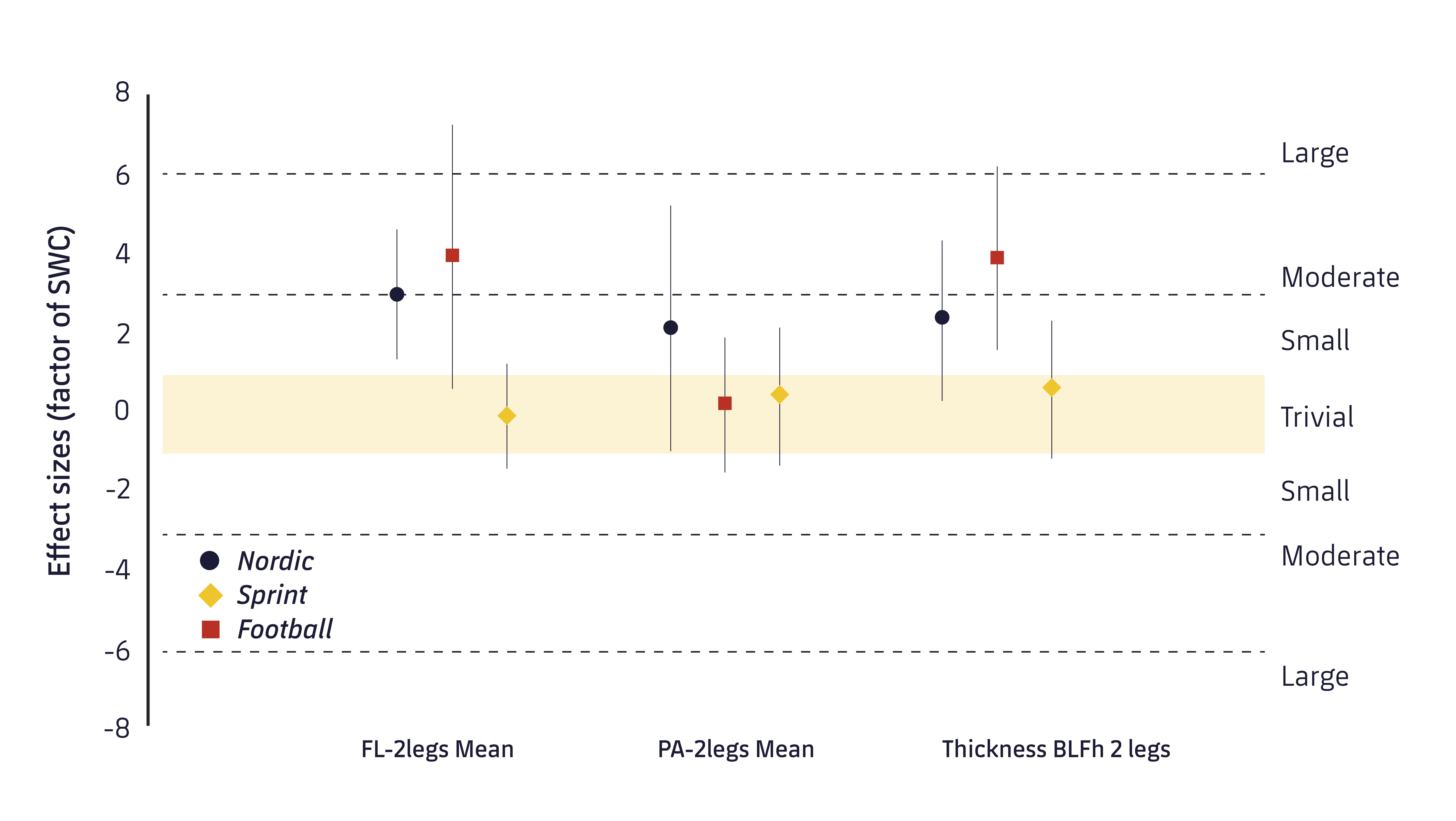 It is worth mentioning that football athletes with shorter femoral biceps heads (<10.56 cm average) have up to four times the risk of hamstring strain injury than athletes with longer fascicles.10 Thus, by each 0.5 cm length increase, the injury risk decreases by ~74%. Because of that, as we can see in the Mendiguchia et al. article,9 the "Nordic" group increased on average ~0.7 cm, while the sprint group increased ~1.6 cm. In this way, a comprehensive training sprint programme would further reduce the hamstrings injury risk.
Besides, as seen in a study that analysed the evolution of the force-speed-power profile throughout a season in a Spanish First Division team,11 maximum force and power reach their maximum values during the middle of the season, but they decrease by the end. Thus, a sprint programme might be efficient to counteract the decrease observed throughout the season.
Conclusion
In brief, as Pascal Edouard et al. suggest, "athletes and coaches should consider the sprint as an immunization process". This means getting exposed to "poison" (in this case, high-intensity actions) step by step with the aim of increasing protection before this aggressive stimulus.4 Because of that, the sprint, far from being part of the problem, becomes part of the solution. Based on all of the above, careful planning and implementation of high-speed sprint training at the appropriate times for individual players should be part of a comprehensive programme that aims at increasing performance and reducing injury risk.
Adrián Castillo
References:
Faude, O., Koch, T. & Meyer, T. Straight sprinting is the most frequent action in goal situations in professional football. J. Sports Sci. 30, 625–631 (2012).
Ekstrand, J., Waldén, M. & Hägglund, M. Hamstring injuries have increased by 4% annually in men's professional football, since 2001: a 13-year longitudinal analysis of the UEFA Elite Club injury study. Br. J. Sports Med. 50, 731–737 (2016).
Arnason, A., Andersen, T. E., Holme, I., Engebretsen, L. & Bahr, R. Prevention of hamstring strains in elite soccer: an intervention study. Scand. J. Med. Sci. Sports 18, 40–48 (2008).
Edouard, P. et al. Sprinting: a potential vaccine for hamstring injury. Sport Perform Sci Reports 1, 1–2 (2019).
Guex, K. & Millet, G. P. Conceptual framework for strengthening exercises to prevent hamstring strains. Sports Med. 43, 1207–1215 (2013).
van den Tillaar, R., Solheim, J. A. B. & Bencke, J. Comparison of hamstring muscle activation during high-speed running and various hamstring strengthening exercises. Int. J. Sports Phys. Ther. 12, 718 (2017).
Malone, S., Roe, M., Doran, D. A., Gabbett, T. J. & Collins, K. High chronic training loads and exposure to bouts of maximal velocity running reduce injury risk in elite Gaelic football. J. Sci. Med. Sport 20, 250–254 (2017).
McCall, A. et al. Exercise-Based Strategies to Prevent Muscle Injury in Male Elite Footballers: An Expert-Led Delphi Survey of 21 Practitioners Belonging to 18 Teams from the Big-5 European Leagues. Sport. Med. 50, 1667–1681 (2020).
Mendiguchia, J. et al. Sprint versus isolated eccentric training: Comparative effects on hamstring architecture and performance in soccer players. PLoS One 15, e0228283 (2020).
Timmins, R. G. et al. Short biceps femoris fascicles and eccentric knee flexor weakness increase the risk of hamstring injury in elite football (soccer): a prospective cohort study. Br. J. Sports Med. 50, 1524 LP – 1535 (2016).
Jiménez-Reyes, P. et al. Seasonal Changes in the Sprint Acceleration Force-Velocity Profile of Elite Male Soccer Players. J. Strength Cond. Res. (2020).
DO YOU WANT TO KNOW MORE?
KEEP UP TO DATE WITH OUR NEWS
Do you have any questions about Barça Universitas?
Startup
Research Center
Corporate
PLEASE COMPLETE THE FIELDS:
PLEASE COMPLETE THE FIELDS:
PLEASE COMPLETE THE FIELDS:
The Form has been sent successfully.
PLEASE COMPLETE THE FIELDS:
PLEASE COMPLETE THE FIELDS:
PLEASE COMPLETE THE FIELDS:
The Form has been sent successfully.
PLEASE COMPLETE THE FIELDS:
PLEASE COMPLETE THE FIELDS:
PLEASE COMPLETE THE FIELDS:
The Form has been sent successfully.