Hamstring injuries are one of the most common injuries in sports that involve sprinting or abrupt decelerations, as when kicking the football, because the muscle moves in an eccentric motion to stop the acceleration. In football, hamstring injuries have been shown to account for up to 37% of muscle injuries (Ekstrand, Hägglund, & Waldén, 2011). Therefore, determining risk factors associated with this injury is essential to design preventive strategies.
One of the factors associated with an increase in the risk of injury, is having low strength levels or significant muscle imbalance (for example, having a greater flexion strength rather than knee extension). In fact, the highest incidence of hamstring injuries has been shown to occur during the second half of a match, when the muscles are fatigued and generate lower strength levels. Thus, it is best to assess athletes' hamstring strength after matches throughout the season to understand which athletes reach higher levels of fatigue and/or residual muscle damage, which could lead to a greater risk of injury.
Traditionally, the most accurate method for evaluating knee flexion strength (that is, of the hamstring muscle) has been by using complex dynamometers. However, in recent years, a very useful isometric strength test of the posterior chain, known as the McCall test, author of the first validation study of this test, has become more popular (McCall et al., 2015). In this test, the athlete lays down on his back and places his heel on a force plate (which may be placed high, giving the knee a greater degree of flexion, or closer to the ground with less knee flexion). From this position, the athlete will perform an isometric contraction, trying to extend the hip and flex the knee, thus activating the posterior chain, without lifting the hip off the ground (Figure 1).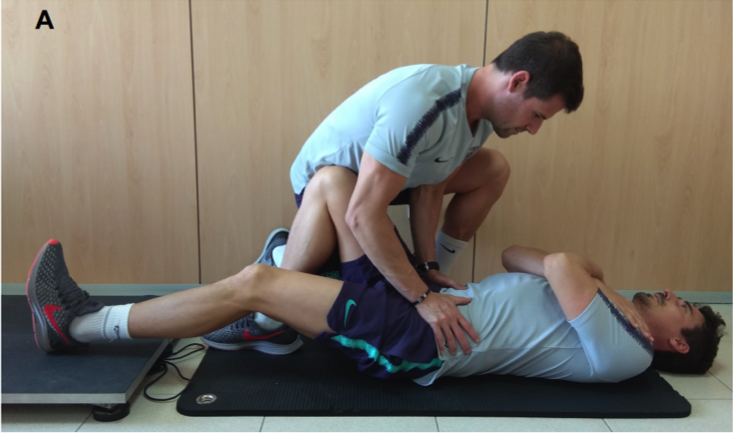 The McCall test is used regularly at FC Barcelona and Gerard Carmona, member of the club's Performance Area, says, "it is a very simple test, but it provides relevant information regarding post-match fatigue in football." This test has been shown to be reliable and sensitive to change. For example, it can identify the acute strength reductions that occur after a football match, when injury risk is at is highest (McCall et al., 2015). The importance of this test comes from the fact that lower levels of isometric strength in the hamstring muscles have been shown to be associated with increased risk of injury in this area, particularly when there has been a previous injury (De Vos et al., 2014).
It is important to highlight that, although the most accurate way to assess strength is through the use of strength platforms, the original version of the test (Schache, Crossley, Macindoe, Fahrner, & Pandy, 2011) proposed measuring strength by placing a sphygmomanometer under the heel (Figure 2), which allows the test to be completed even with limited resources. On the other hand, although the test has been validated when performed with the knee at either 90º or 30º (with 0º being complete extension), a recent study has shown that there is greater activation of the posterior chain with a lower degree of knee flexion (30º vs. 90º), possibly because the hamstring muscle is more elongated(Read, Turner, Clarke, Applebee, & Hughes, 2019). In fact, during a match, greater peak strengths in this muscle are recorded when the knee is more extended (for example, in the final phases of the movement when kicking a ball). Therefore, it may be more advisable to complete this test with less knee flexion, placing a strength platform on the ground as done at FC Barcelona.
In short, the McCall test can help us evaluate the isometric strength of the posterior chain in a simple, ongoing, and minimally fatiguing way. This assessment allows us to identify those athletes with higher post-match fatigue levels (and with a greater risk to suffer a hamstring injury), or to evaluate whether strength is optimally regained after an injury.
The Barça Innovation Hub team
References
De Vos, R. J., Reurink, G., Goudswaard, G. J., Moen, M. H., Weir, A., & Tol, J. L. (2014). Clinical findings just after return to play predict hamstring re-injury, but baseline MRI findings do not. British journal of sports medicine, 48(18), 1377–1384. https://doi.org/10.1136/bjsports-2014-093737
Ekstrand, J., Hägglund, M., & Waldén, M. (2011). Epidemiology of muscle injuries in professional football (soccer). American Journal of Sports Medicine, 39(6), 1226–1232. https://doi.org/10.1177/0363546510395879
McCall, A., Nedelec, M., Carling, C., Le Gall, F., Berthoin, S., & Dupont, G. (2015). Reliability and sensitivity of a simple isometric posterior lower limb muscle test in professional football players. Journal of Sports Sciences,33(12), 1298–1304. https://doi.org/10.1080/02640414.2015.1022579
Read, P. J., Turner, A. N., Clarke, R., Applebee, S., & Hughes, J. (2019). Knee Angle Affects Posterior Chain Muscle Activation During an Isometric Test Used in Soccer Players. Sports, 7(1), 13. https://doi.org/10.3390/sports7010013
Schache, A. G., Crossley, K. M., Macindoe, I. G., Fahrner, B. B., & Pandy, M. G. (2011). Can a clinical test of hamstring strength identify football players at risk of hamstring strain? Knee Surgery, Sports Traumatology, Arthroscopy,19(1), 38–41. https://doi.org/10.1007/s00167-010-1221-2
DO YOU WANT TO KNOW MORE?
KEEP UP TO DATE WITH OUR NEWS
Do you have any questions about Barça Universitas?
Startup
Research Center
Corporate
PLEASE COMPLETE THE FIELDS:
PLEASE COMPLETE THE FIELDS:
PLEASE COMPLETE THE FIELDS:
The Form has been sent successfully.
PLEASE COMPLETE THE FIELDS:
PLEASE COMPLETE THE FIELDS:
PLEASE COMPLETE THE FIELDS:
The Form has been sent successfully.
PLEASE COMPLETE THE FIELDS:
PLEASE COMPLETE THE FIELDS:
PLEASE COMPLETE THE FIELDS:
The Form has been sent successfully.