In 2007, a review on the Severe Acute Respiratory Syndrome (SARS-CoV) (1) was published in the Clinical Microbiology Reviews magazine which concluded: "The presence of a large reservoir of SARS-CoV-like viruses in horseshoe bats, together with the culture of eating exotic mammals in southern China, is a time bomb.   The possibility of the re-emergence of SARS and other novel viruses from animals or laboratories and therefore the need for preparedness should not be ignored"
On 11 March 2020, the World Health Organisation (WHO) declared the global pandemic due to the SARS-CoV-2, known as COVID-19, calling the governments for urgent actions to mitigate the spreading of the disease. At first, accurate data on the spreading or the physiopathology of the disease was unknown, and there were no reference models to take into account. This caused a time gap where no restrictive measures were taken and the infection rates increased dramatically, mainly in Europe. However, after the first studies of the virus was released and the measures adopted in China started paying off, countries like Spain and Italy had their wake-up call.
Mathematic models estimated that the basic reproduction number (average amount of people an infected person will pass on the disease to) would range between two and three (2) (Figure 1). Thus, sports events that gather crowds would suppose a critical transmission point due to the virus' high infectivity and due to this, all sports activities were banned. The Italian Football League and the Spanish Football League cancelled their matches on the 8th and 12th of March respectively, and even the Olympic Games were rescheduled for next year.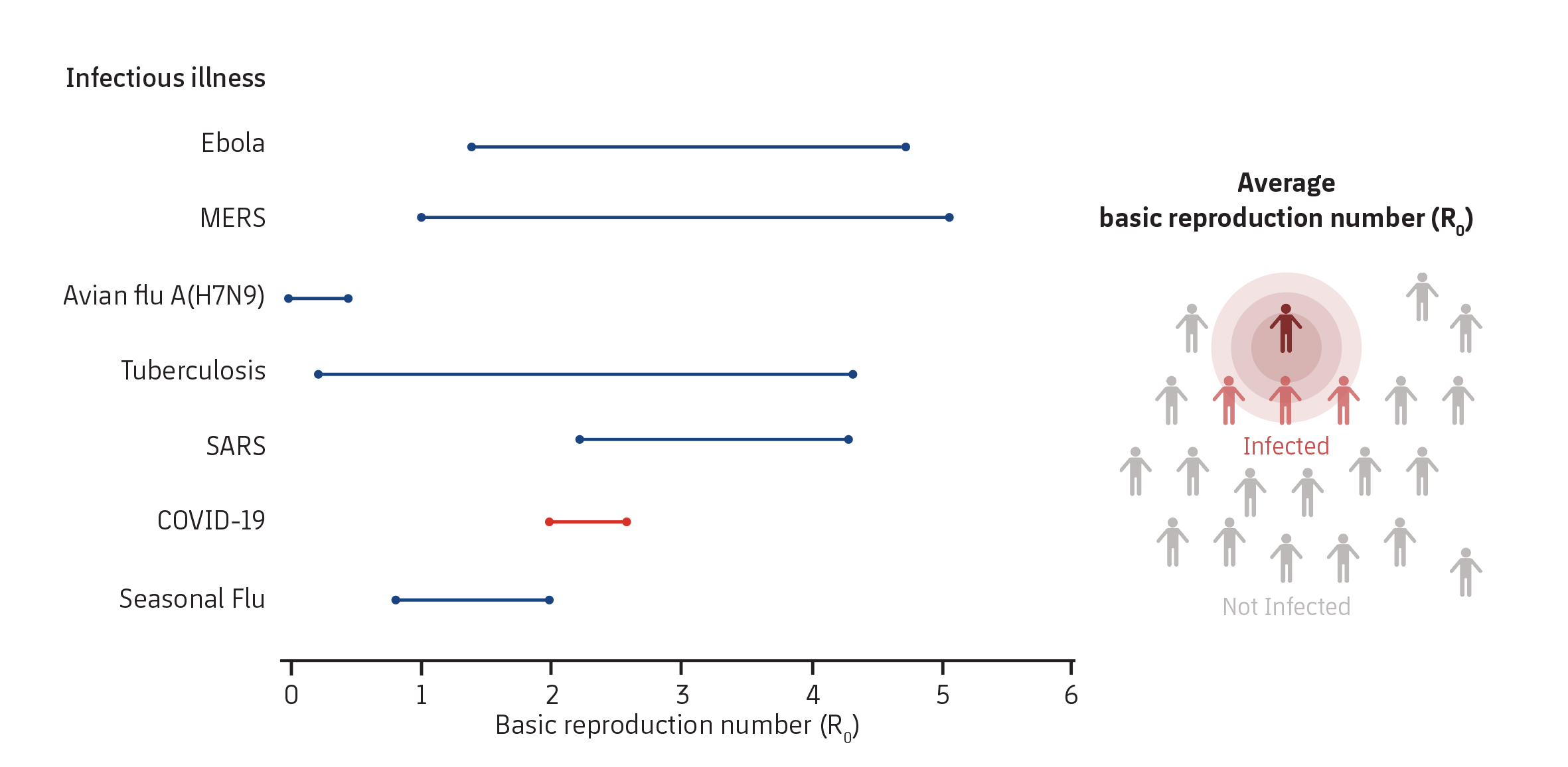 After one month of lockdown and due to the fact that Italy seems to have reached the "peak" in the curve (Figure 2), some clubs have already started to ask to resume their training sessions, for their players to not lose their physical condition. For this reason, an editorial published in the prestigious British Journal of Sports Medicine magazine (4) signed by a group of renowned doctors, including Alessandro Corsini (Inter Milan), Piero Volpi (Inter Milan), Gian Nicola Bisciotti (París Saint-Germain Football Club) and Cristiano Eirale (París Saint-Germain Football Club), claim for "a wake-up call to the whole football medical community to recommend extreme caution to the relevant authorities before the decision of resuming sports activity ". According to the Italian Law of 1995, teams' doctors are responsible for the health of the football players, the reason why they are against resuming the competition before this situation has improved.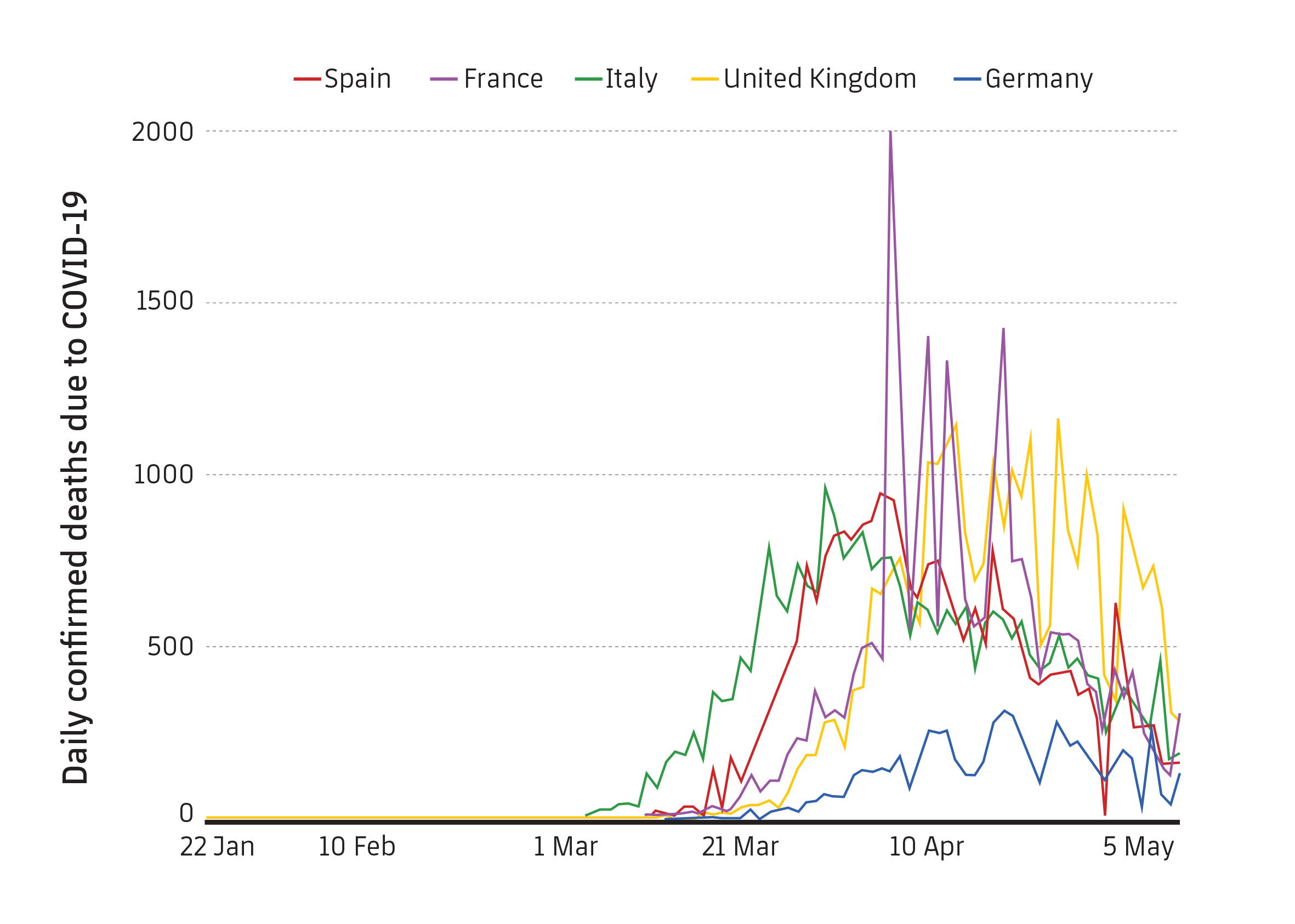 Health effects are still not fully known. Although players are young and do not suffer from comorbidities (such as obesity or hypertension) (5), which reduces the death risk of the virus, they could develop severe respiratory failure and this would require hospitalization (4). Recent studies also show that a subgroup of patients can develop what is known as the "cytokine storm syndrome", a hyper-inflammatory response that promotes the abnormal release of cytokines, such as IL-6 (6) which may cause systemic failure and even death in some cases (7). On the other hand, since football is a sport that involves the work of many employees every day, and there is a lot of contact among players, the possibility of a new outbreak would be high.
Therefore, and given the unpredictability of the clinic associated with the virus, experts do not believe it is convenient to expose players to the risk of becoming ill and they "think it is necessary to set safety conditions based on the principle of 'extreme caution' in order to resume sports activities".
In addition, another concern doctor have is whether it is ethical to undertake such risk and the conditions of the health systems in the countries affected. Hospitals and, mainly, intensive care units, have seen their services heavily burdened, and that is why resuming competitions could endanger people's lives and alter even more the stability of health services.
Therefore, before resuming competitions, it is necessary to evaluate the effects that COVID-19 may have on players and also consider the consequences an early comeback may have for health systems. Making decisions thinking about the short term may cause even slower and more difficult recovery.
Adrián Castillo
References
Cheng VCC, Lau SKP, Woo PCY, Yuen KY. Severe acute respiratory syndrome coronavirus as an agent of emerging and reemerging infection. Clin Microbiol Rev. 2007 Oct;20(4):660–94. Available from: https://pubmed.ncbi.nlm.nih.gov/17934078
Wu JT, Leung K, Leung GM. Nowcasting and forecasting the potential domestic and international spread of the 2019-nCoV outbreak originating in Wuhan, China: a modelling study. Lancet. 2020 Feb 29;395(10225):689–97. Available from: https://doi.org/10.1016/S0140-6736(20)30260-9
Callaway E, Cyranoski D, Mallapaty S, Stoye E, Tollefson J. The coronavirus pandemic in five powerful charts. Vol. 579, Nature. England; 2020. p. 482–3.
Corsini A, Bisciotti GN, Eirale C, Volpi P. Football cannot restart soon during the COVID-19 emergency! A critical perspective from the Italian experience and a call for action. Br J Sports Med [Internet]. 2020 Mar 24;bjsports-2020-102306. Available from: http://bjsm.bmj.com/content/early/2020/03/26/bjsports-2020-102306.abstract
Petrilli CM, Jones SA, Yang J, Rajagopalan H, O'Donnell LF, Chernyak Y, et al. Factors associated with hospitalization and critical illness among 4,103 patients with COVID-19 disease in New York City. medRxiv. 2020 Jan 1;2020.04.08.20057794. Available from: http://medrxiv.org/content/early/2020/04/11/2020.04.08.20057794.abstract
Ritchie AI, Singanayagam A. Immunosuppression for hyperinflammation in COVID-19: a double-edged sword? Lancet. 2020 Apr 4;395(10230):1111. Available from: https://doi.org/10.1016/S0140-6736(20)30691-7
Mehta P, McAuley DF, Brown M, Sanchez E, Tattersall RS, Manson JJ. COVID-19: consider cytokine storm syndromes and immunosuppression. Lancet. 2020 Mar 28;395(10229):1033–4. Available from: https://doi.org/10.1016/S0140-6736(20)30628-0
DO YOU WANT TO KNOW MORE?
KEEP UP TO DATE WITH OUR NEWS
Do you have any questions about Barça Universitas?
Startup
Research Center
Corporate
PLEASE COMPLETE THE FIELDS:
PLEASE COMPLETE THE FIELDS:
PLEASE COMPLETE THE FIELDS:
The Form has been sent successfully.
PLEASE COMPLETE THE FIELDS:
PLEASE COMPLETE THE FIELDS:
PLEASE COMPLETE THE FIELDS:
The Form has been sent successfully.
PLEASE COMPLETE THE FIELDS:
PLEASE COMPLETE THE FIELDS:
PLEASE COMPLETE THE FIELDS:
The Form has been sent successfully.