Epidemiology
Injuries are one of the main concerns in the world of sports as they are the primary reason which interrupts an athlete's training program. Furthermore, when it comes to team sports, not only does it affect the player, but it also affects the whole team, from a tactical standpoint. Muscle injuries are the most common sports-related injuries, with hamstring injuries being the main cause in sports that involve running, a constant change in pace or abrupt leg decelerations such as the kicks that occur in football. One of the major issues with hamstring injuries, apart from their high incidence level, is the high rate of injury recurrence: around 13% of players suffer a recurrence in the first week after returning to their training, and around 8% have a recurrence in the second week (Seward & Orchard, 2004).
There are some risk factors for hamstring injuries that are non-modifiable, such as age, race or prior history of similar types of injury. Other risk factors are modifiable, such as a lack of strength and flexibility, fatigue or strength imbalance between agonist and antagonist muscles (de Hoyo et al., 2013). In the latter case, while there seems to be some level of controversy about the relationship between isolated hamstring muscle strength assessments and injury risk, scientific evidence leaves little doubt that there is an association between agonist muscles that are imbalanced with their antagonist (quadriceps muscles) and injury incidence.
Hamstring: Quadriceps Ratio
The Hamstring:Quadriceps (H:Q) ratio refers to the relationship between the peak torque of these two muscle groups; an imbalance between them is associated with a significant risk of injury to the posterior leg musculature in professional football players (Croisier et al., 2008; Grygorowicz et al., 2017). The H:Q ratio has traditionally been calculated by dividing the maximum concentric force of the hamstrings by that of the quadriceps (Hcon:Qcon) at the same angular velocity. Over time, however, various authors have been suggesting that the agonist-antagonist strength relationship for extending and flexing the knee would be better described as the ratio between the peak torque in eccentric hamstring contraction and the peak concentric torque of the quadriceps (Hecc:Qcon). This has become known as the functional H:Q ratio. With this in mind, one study (Croisier et al., 2008) evaluated the isokinetic strength of 462 professional football players during the pre-season in order to determine whether an imbalance between the antagonist musculature of both legs could predict future hamstring injuries through its monitorization during the season (9 months), and whether the normalisation of that imbalance through compensatory training could reduce the risk of injury.
The results in table 1 show the 216 players (47%) who suffered from H:Q ratio imbalances, and the various types of ratios and angular speeds at which those imbalances were presented.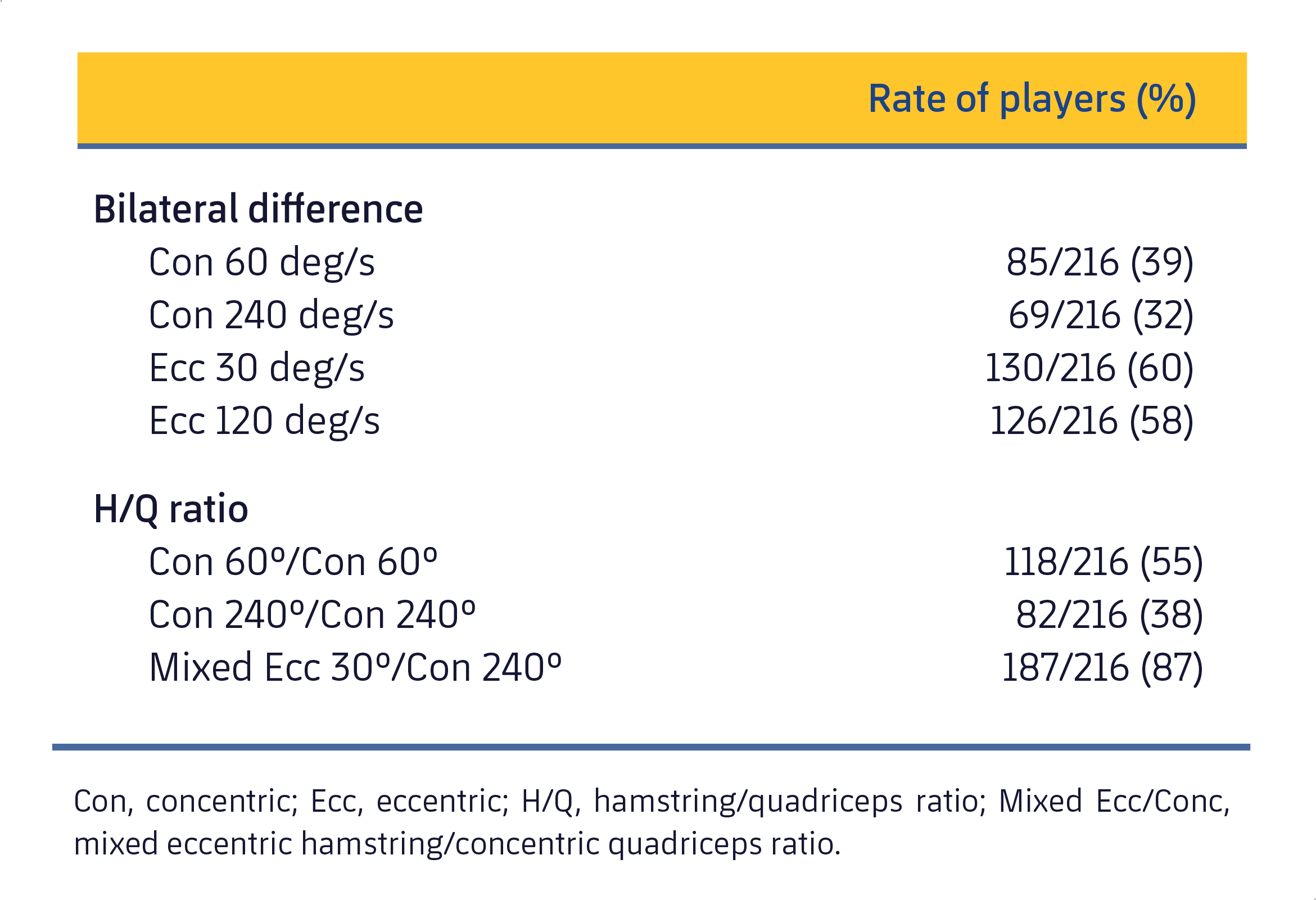 As a relevant data point, it can be observed that when using the traditional ratio (Hcon:Qcon), more than 30% (55% and 38% vs 87%) of the imbalances that were manifested while using the functional ratio (Hecc:Qcon) went undetected.
After they were assessed, the 462 participants were classified based on whether or not they demonstrated a muscular imbalance during the pre-season. The group that showed imbalances was subdivided into those who undertook compensatory training and those who did not. In turn, those who had undertaken the training were divided based on whether or not they underwent a post-test to determine if those imbalances had been corrected by the compensatory training (table 2).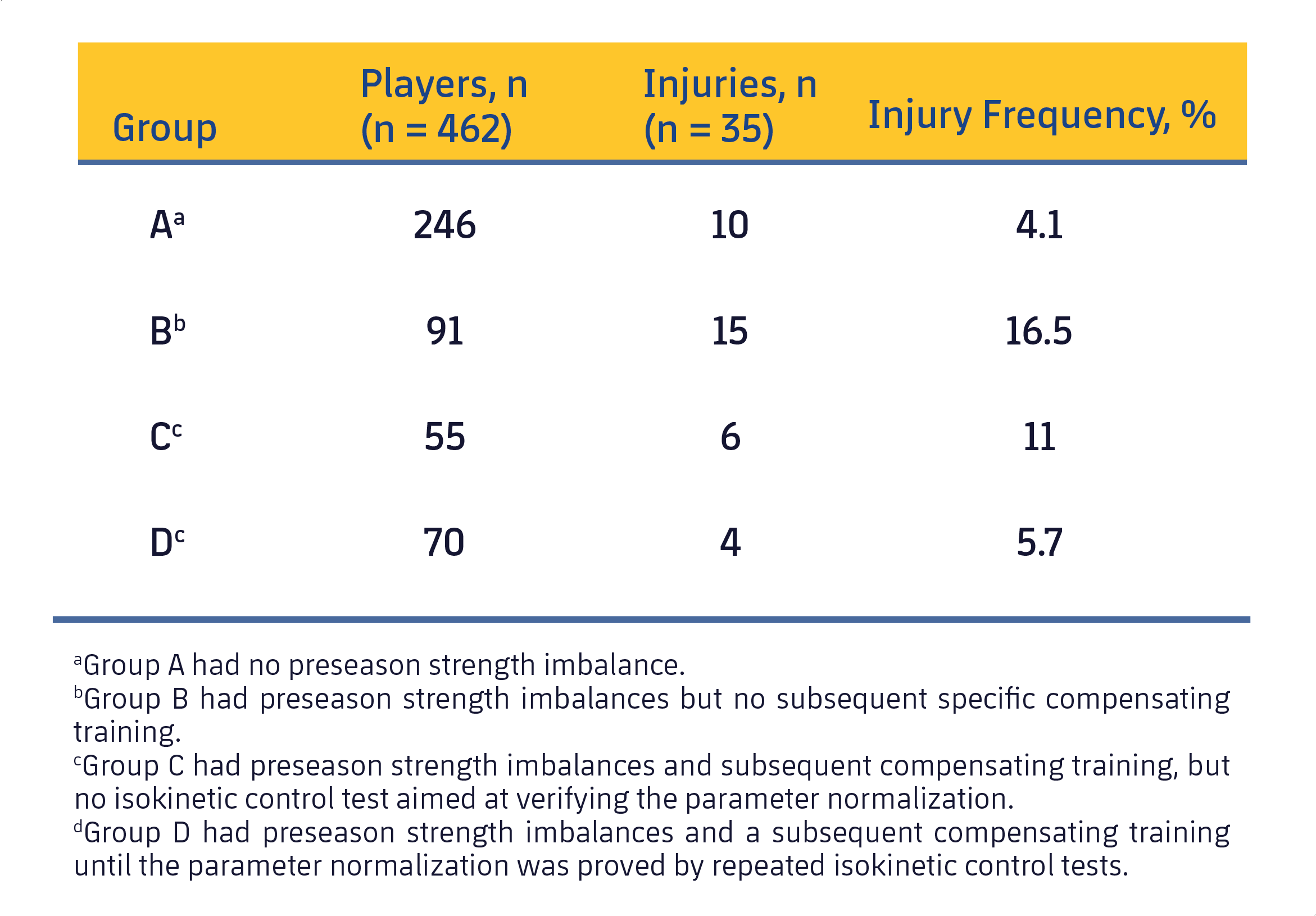 Surprisingly, the data gathered indicated that the players with H:Q ratio imbalances in the pre-season had an injury incidence that was 4 times higher than those who did not have imbalances (16.5% vs 4.1%). Furthermore, undertaking compensatory training in order to correct existing imbalances, which were subsequently assessed via post-test, were found to reduce the injury risk. There was no significant difference in the frequency of injuries among this group compared to those who did not have imbalances during the pre-season. Lastly, the players with a functional Hecc:Qcon ratio higher than 1.4 did not suffer from any hamstring injuries. In other words, 1.40 could be proposed as the Hecc:Qcon ratio cut-off point, after which the risk of injury would be reduced. Based on the latest scientific research, various cut-off points have been suggested. One of the most widespread cut-off points still being used (erroneously) is that which establishes an H:Q ratio above 0.60 as the point after which the injury risk is lowered. However, this refers to the traditional Hcon:Qcon ratio which, as we have seen, is limited when it comes to detecting muscle imbalances.
Conclusions
Injury risk is one of the main limiting factors, if not the most limiting factor when it comes to performance. As a result, the role of injury prevention for increasing athletic performance is especially important. In this sense, assessing potential muscular imbalances using the H:Q ratio in sports involving frequent hamstring use, such as football, can play a role in a team's success. Likewise, when an imbalance is present, correction through compensatory training is equally important.
The Barça Innovation Hub team
REFERENCES:
Croisier, J. L., Ganteaume, S., Binet, J., Genty, M., & Ferret, J. M. (2008). Strength imbalances and prevention of hamstring injury in professional soccer players: a prospective study. The American Journal of Sports Medicine, 36(8), 1469-1475.
De Hoyo, M., Naranjo-Orellana, J., Carrasco, L., Sañudo, B., Jiménez-Barroca, J. J., & Domínguez-Cobo, S. (2013). Revisión sobre la lesión de la musculatura isquiotibial en el deporte: factores de riesgo y estrategias para su prevención. Revista Andaluza de Medicina del Deporte, 6(1), 30-37.
Grygorowicz, M., Michałowska, M., Walczak, T., Owen, A., Grabski, J. K., Pyda, A., & Kotwicki, T. (2017). Discussion about different cut-off values of conventional hamstring-to-quadriceps ratio used in hamstring injury prediction among professional male football players. PloS One, 12(12), e0188974.
Seward, H., & Orchard, J. (2004). AFL injury report 2003. Sport Health, 22(2), 7.
DO YOU WANT TO KNOW MORE?
KEEP UP TO DATE WITH OUR NEWS
Do you have any questions about Barça Universitas?
Startup
Research Center
Corporate
PLEASE COMPLETE THE FIELDS:
PLEASE COMPLETE THE FIELDS:
PLEASE COMPLETE THE FIELDS:
The Form has been sent successfully.
PLEASE COMPLETE THE FIELDS:
PLEASE COMPLETE THE FIELDS:
PLEASE COMPLETE THE FIELDS:
The Form has been sent successfully.
PLEASE COMPLETE THE FIELDS:
PLEASE COMPLETE THE FIELDS:
PLEASE COMPLETE THE FIELDS:
The Form has been sent successfully.