December 15, 2021
Nutrition
What to eat on match day, according to football nutritionists
Be careful what you eat on match day. Diet can make or break performance at the highest level of the beautiful game that is football. Eating the right food, and avoiding ones which could impact performance negatively, is fundamental on matchday.
The role of nutritionists in sports
Nutritionists play a massive role in the menus that professional footballers follow. They are dedicated to looking at what is the best nutritional strategies for the best performance and wellbeing of the players. The menu on a matchday is a very important one, but also a very tricky one.  Players need a lot of energy for the match, but also have to be aware of not overeating or eating certain foods that could slow them down or make them not feel their best.
 FC Barcelona's nutritionist Mireia Porta warns players to not experiment with food on matchday or risk eating anything new.
"When the player sits down at the table to eat before the match, they must follow a series of routines and habits which they have already tried and resulted in being effective for them to perform at their best. It is not a moment to experiment, they must not pay attention to other players or non-nutrition professionals."   Mireia Porta, FC Barcelona nutritionist.
What should players eat?
The first thing to consider is that on a matchday players should consume something easy and quick to digest. To get the optimal performance, players need to be fuelled up, so they fill the matchday menu with nutrients, carbohydrates and protein, as well as hydration. It is also important to note that the pre-match meal should be had at least three hours before the match.
It is also good to remember the intake of liquids must not be forgotten as it helps optimize pre-hydration. Drinking soups or juices or shakes in the meals prior to the game can help us get to the match well hydrated and improve performance.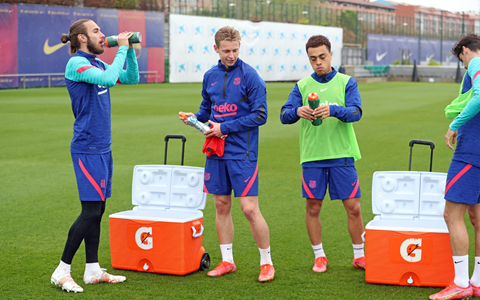 To make things easy for you, here is a traffic light system of what foods to be avoided, what foods to be careful with and what should be eaten on a matchday:
Red Light – Avoid these foods.
Dairy. Players must not eat cream or cheese. Dairy can produce discomfort to an athlete as well as any sort of intolerance. For example, with milk, an athlete might tolerate it well during a training session, but when there are nerves and stress it may take a toll on the athlete's stomach.
Spices. It is recommended to avoid hot spices, and acidic or irritating ingredients such as pepper or citrus, which may cause reflux or acidity.
Fermentable food. When nerves are running high in pre-game, the tendency for athletes is to eat menus low on FODMAP, thus avoiding fermentable food products that can cause bloating and digestive discomfort.
Orange Light – Be careful with these foods.
Fiber. Food which contains a lot of fiber is very healthy but they delay digestion and can produce digestive discomfort to the athlete. For example, it's better to not eat artichokes, broccoli, cabbage, whole grains and legumes.
High Fats. Food with high fats can also cause difficult digestion, so it is not recommended either. That is why fried, stewed and battered food products should be avoided. Also, choose fish with less fat, instead of eating salmon or sardines which are very healthy foods, but more difficult to digest.
Green Light – Eat these foods.
Steamed, sautéed or grilled food. This is the best way to cook food to avoid it being oily and fatty.
Whitefish. Hake, sole, dogfish, cod, etc. They have the same amount of proteins as other types of fish, but less fat and are digested faster.
Grilled or scrambled eggs.
Food rich in carbohydrates like rice or pasta can be good options.
Protein. We shouldn't forget about this type of meal. Consume around 20-30g of high-quality protein (rich in essential amino acids), which will help also with muscle building.
Vegetables. For instance, pumpkin, zucchini, carrot or beetroot.
Yogurt or a vegetable drink. They are good alternatives to substitute ice cream or milk.
Fruit such as berries, and especially blueberries, are great pre-match meals for aiding the immune system and are full of antioxidants.
Pre-game diet
Below is an example of a matchday menu done right, which you could follow at home.
Matchday menu:
First Course: rich in carbohydrates: Pesto pasta.
Second course rich in protein: grilled chicken with a side of mashed potato and steamed zucchini.
Dessert: a bowl of yogurt and blueberries and strawberries.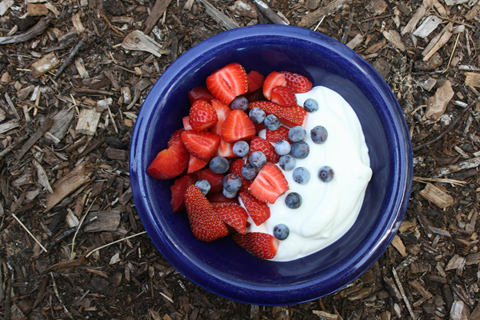 DO YOU WANT TO KNOW MORE?
KEEP UP TO DATE WITH OUR NEWS
Do you have any questions about Barça Universitas?
Startup
Research Center
Corporate
PLEASE COMPLETE THE FIELDS:
PLEASE COMPLETE THE FIELDS:
PLEASE COMPLETE THE FIELDS:
The Form has been sent successfully.
PLEASE COMPLETE THE FIELDS:
PLEASE COMPLETE THE FIELDS:
PLEASE COMPLETE THE FIELDS:
The Form has been sent successfully.
PLEASE COMPLETE THE FIELDS:
PLEASE COMPLETE THE FIELDS:
PLEASE COMPLETE THE FIELDS:
The Form has been sent successfully.