The monitoring of neuromuscular fatigue in athletes is very relevant when planning training sessions and competitions. Being able to know whether an athlete has reached the fatigue levels expected for a training session or, on the other hand, if they are too fatigued to complete the session or to take part in a competition, can be of great help.
There are several methods to assess the athlete's fatigue, including questionnaires and measuring physiological variables, such as heart rate (or its variability) or lactate. Moreover, another option to determine fatigue is the analysis of the changes in physical performance. Thus, if, for example, during strength training with the same load the speed of execution decreases significantly, the athlete would be fatigued, and the same happens with other types of exercises, such as sprint (fatigue would show a decrease in running speed). The problem with many of these methods is its technical complexity, given that, for example, we do not always have a linear encoder or another system to assess speed of execution during strength training sessions. However, in the last years, extensive evidence has shown that an exercise as simple as jumps could be a valid instrument to assess neuromuscular fatigue of the lower body.
Jump as a Fatigue Indicator in Strength Training
Ten years ago, researchers González Badillo and Sánchez Medina proved that the decreased height in jumps could be used as a fatigue indicator during a strength training session, since this variable was closely related to the decreased speed during strength sets (r=0,92).1Besides, the authors noticed that as the jump ability decreased during the strength set, metabolic stress increased (lactate and ammonium in blood); they found a close relation between the decreased jump ability and the levels of lactate in blood (r=0,97).
Jump as a fatigue indicator in sprint training
Recent studies have confirmed the role of jump as a mechanical and metabolic fatigue indicator. In a study led by Dr. González Badillo, a group of individuals performed the highest number of 40-metre sprints possible with 4 minutes to rest between each of them, until speed decreased by 3%, and the authors assessed the jump ability and the metabolic stress (lactate and ammonium) in each rest period between sprints.2 The results showed that the decrease of 3% of speed was associated to a decreased jump ability of 14%. Besides, both the maximum number of sprints each individual was able to perform and the decreased jump ability were associated to the accumulation of metabolic stress, finding, for example, a very strong relation between jump height and the levels of lactate (r=0,96) (Figure 1).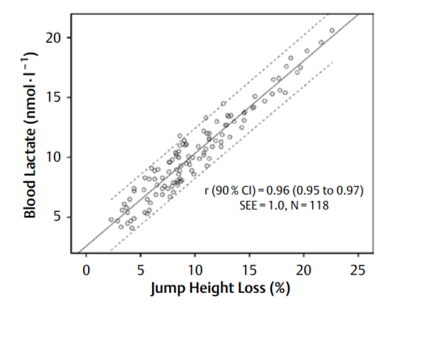 Conclusions and Practical Applications
Therefore, there is a relevant relation between the ability to jump (the decrease of its height), the levels of metabolic stress (e.g., Lactate) and performance. That's why measuring the jump can be an easy and practical way of assessing athletes' fatigue, allowing us to determine a threshold (e.g., a decrease of 10-15% in the jump) from which we want to stop the exercise or increase the rest period, without having to carry out other tests such as measuring lactate. For that, and as we have mentioned in previous articles, there are different mobile apps such as MyJump, created by Dr. Balsalobre, that allow assessing the jump height using just the phone camera. This app has been validated by comparing its results to other technical tools such as strength platforms.3
Pedro L. Valenzuela
REFERENCES
Sánchez-Medina L, González-Badillo JJ. Velocity loss as an indicator of neuromuscular fatigue during resistance training. Med Sci Sport Exerc. 2011;43(9):1725-1734. doi:10.1249/MSS.0b013e318213f880
Jiménez-Reyes P, Pareja-Blanco F, Cuadrado-Peñafiel V, Morcillo JA, Párraga JA, González-Badillo JJ. Mechanical, Metabolic and Perceptual Response during Sprint Training. Int J Sports Med. 2016;37(10):807-812.
Balsalobre-Fernández C, Glaister M, Lockey RA. The validity and reliability of an iPhone app for measuring vertical jump performance. J Sports Sci. 2015;33(15):1574-1579. doi:10.1080/02640414.2014.996184
DO YOU WANT TO KNOW MORE?
KEEP UP TO DATE WITH OUR NEWS
Do you have any questions about Barça Universitas?
Startup
Research Center
Corporate
PLEASE COMPLETE THE FIELDS:
PLEASE COMPLETE THE FIELDS:
PLEASE COMPLETE THE FIELDS:
The Form has been sent successfully.
PLEASE COMPLETE THE FIELDS:
PLEASE COMPLETE THE FIELDS:
PLEASE COMPLETE THE FIELDS:
The Form has been sent successfully.
PLEASE COMPLETE THE FIELDS:
PLEASE COMPLETE THE FIELDS:
PLEASE COMPLETE THE FIELDS:
The Form has been sent successfully.